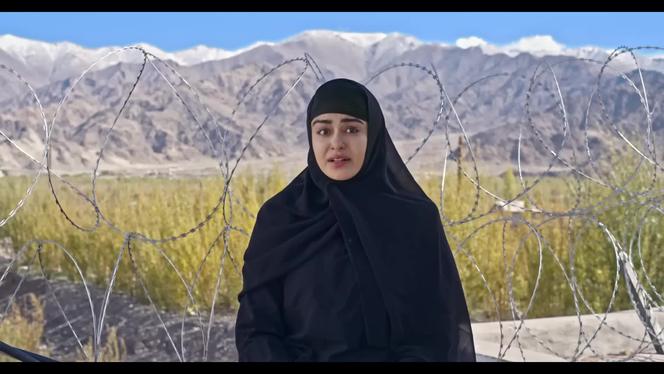 The Kerala Story join the ever-growing list of films instrumentalized by Hindu nationalists. Deliberately blurring the line between fiction and reality, this movie by Sudipto Sen tells the story of innocent Hindu and Christian women recruited by the Islamic State organization (IS) in the southern Indian state of Kerala. The film features two Hindu and one Christian woman seduced by Muslim men with malicious intentions. Once under their control, they are "brainwashed." One of them who converted to Islam, will eventually be drawn into the ranks of IS by her husband.
The director contends that the story of these three student nurses is based on real events. The film's "mission" "goes beyond the creative boundaries of cinema"; it is "a movement that should reach out to the masses across the world to raise awareness," said the director Sen, presenting his work of fiction as a documentary and raising questions about increasingly blurred lines between cinema and propaganda.
The film's theme reinforces a myth dear to Hindu nationalists, that of the "love jihad." The theory, fomented by extremists, is that Muslim men court Hindu women with the sole aim of converting them. No reliable data exists to support this alleged phenomenon, but several Indian states, governed by Prime Minister Narendra Modi's Bharatiya Janata Party (BJP), have passed draconian laws criminalizing conversions through marriage.
Controversy
The Kerala Storyreleased in theaters on May 5, was marked by controversy as soon as its trailer was released in November 2022. The lead character, played by actress Adah Sharma, claims, veiled and on camera, that 32,000 women in Kerala have disappeared after being recruited by the IS. An unsubstantiated and clearly exaggerated estimate, which has provoked outrage.
The serious fact-checking site AltNews found "no evidence" to support that figure and the director was never able to specify his sources. According to a US State Department report on terrorism, there were "66 known fighters of Indian origin affiliated" with the IS in November 2020.
Read more
Article reserved for our subscribers

In India, Muslims live under the increasing threat of Hindu fundamentalism
Several complaints were filed in court to have the film banned on the grounds that it is akin to hate speech against the country's Muslim minority. None of them succeeded. The director was nevertheless forced to withdraw the trailer containing the unverified numbers. The description of the promotional video on YouTube now refers to "the compilation of true stories of three young girls," as opposed to the previous 32,000. West Bengal, ruled by an opposition party, had the film banned in order to avoid violence, on the grounds that it was based on "manipulated facts" and contained "hate speech". The Tamil Nadu Multiplex Association (South) also announced that it would no longer screen the film in the opposition state.
You have 37.25% of this article left to read. The rest is for subscribers only.