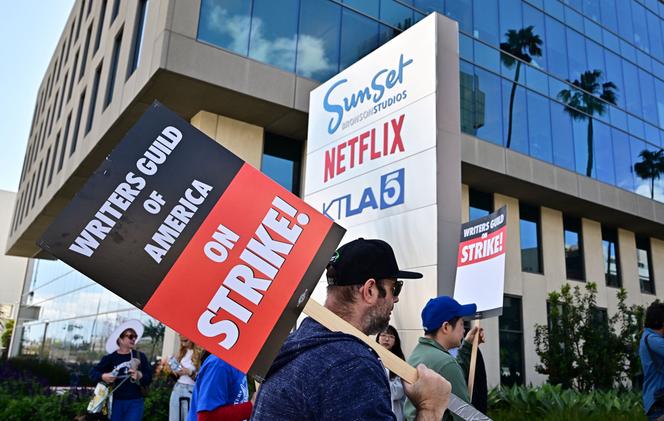 Picket lines formed outside studios in Los Angeles and New York on Tuesday, May 2, as thousands of writers downed tools in a strike over pay and conditions in the streaming era.
Late-night shows fronted by the likes of Jimmy Kimmel, Seth Myers, and Stephen Colbert were expected to be the first casualties as 11,000 union members walked off the job for the first time in 15 years. "Writers are not being paid enough," declared a protestor sitting in front of Netflix's offices in Los Angeles. "Writers are working long hours, and I'm not seeing a lot of residuals on recurrent episodes on TV (…) so I think writers just want a little bit more than what's being offered," he said. The work stoppage has already led most late-night shows to air reruns.
The strike, which could hit television series and movies scheduled for release later this year if it continues, came after talks between the Writers Guild of America (WGA) and the studios' Alliance of Motion Picture and Television Producers (AMPTP), collapsed. The WGA said late Monday the studios' response to its proposals had been "wholly insufficient, given the existential crisis writers are facing."
Requests 'not unreasonable'
The last time Hollywood writers laid down their pens was in 2007 for a strike that lasted 100 days and cost LA's entertainment economy around $2 billion.
This time, the two sides are clashing as writers demand higher pay, minimum guarantees of stable employment, and a greater share of profits from the boom in streaming, while studios say they must cut costs due to economic pressures. WGA member Danielle Sanchez-Witzel, who was picketing Netflix in Los Angeles, said the guild believed the studios had plenty of room to improve their offer: "If we got everything we originally asked for, it's less than 2 percent of the profits they make off (…) the product we create for them."
Late-night hosts Stephen Colbert and Jimmy Fallon – both members of the guild – backed the writers, with Colbert saying their demands were "not unreasonable." Fallon told AFP at the Met Gala in New York: "I support my writers, we have a lot of staff and crew that will be affected by this, but they got to get a fair deal."
Read more
Article reserved for our subscribers

Fears over Hollywood shutdown as writers strike looms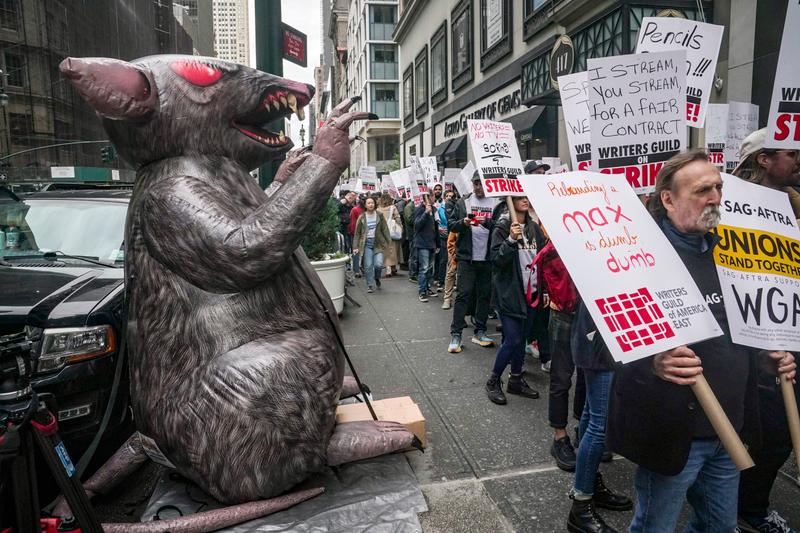 'Sticking points'
Writers say it is becoming impossible to earn a living, as salaries have flatlined or declined after inflation, even as employers reap profits and fatten executives' paychecks. More writers than ever are working at the union-mandated minimum wage. A major source of disagreement during talks was the growing trend for TV shows to hire fewer writers, for shorter durations, to script series. As talks collapsed on Monday, the WGA accused studios of seeking to create a "gig economy" in which writing would become an "entirely freelance profession." The AMPTP said WGA demands that studios hire a set number of writers "for a specified period of time, whether needed or not" were "primary sticking points."
Another issue on the table is reworking the formula that calculates how writers are paid for streaming shows, which often remain on platforms like Netflix years after they were written. For decades, writers have been paid "residuals" from each reuse of their material, such as television reruns or DVD sales. With streaming, writers simply get a fixed annual payout – even if their work generates a smash hit like "Bridgerton" or "Stranger Things," streamed by hundreds of millions of viewers around the world.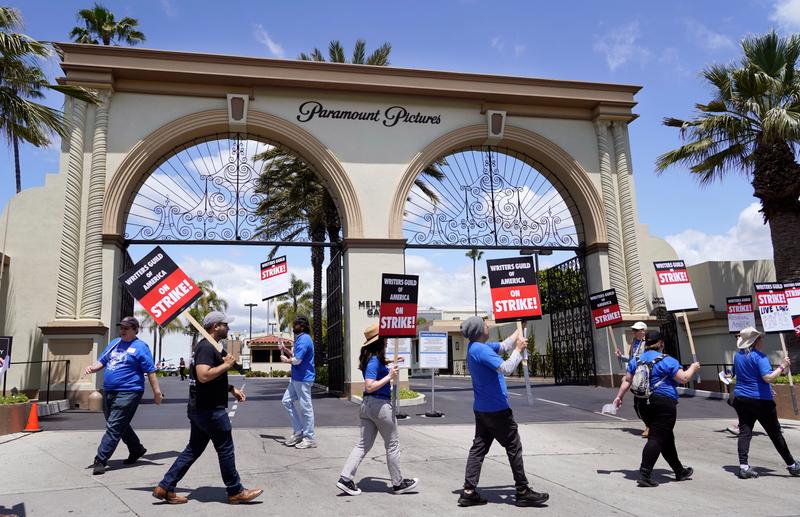 'Broken'
The studios note overall "residuals" paid to writers hit an all-time high of $494 million in 2021, largely thanks to the boom in writing jobs driven by the explosion of streaming content. They also dispute suggestions studios falsely claim economic hardship to bolster their negotiation position. After spendthrift recent years, when rival streamers chased subscriber growth at any cost, bosses are under pressure to curb spending and deliver profits.
Partner service
Learn French with Gymglish
Thanks to a daily lesson, an original story and a personalized correction, in 15 minutes per day.
Try for free
"Do you think that Disney would be laying 7,000 people off for fun?" said a source familiar with the AMPTP's position. In a possible olive branch, the studios' statement Monday said they remained "willing to engage in discussions with the WGA in an effort to break this logjam." But the industry fears a ripple effect, as several other Hollywood unions have voiced solidarity with writers, including the actors' SAG-AFTRA, and the directors' DGA. Both will hold their own talks with studios this summer.
Read more
Article reserved for our subscribers

'Movie theaters have been weakened by the Hollywood studios' quiet withdrawal'