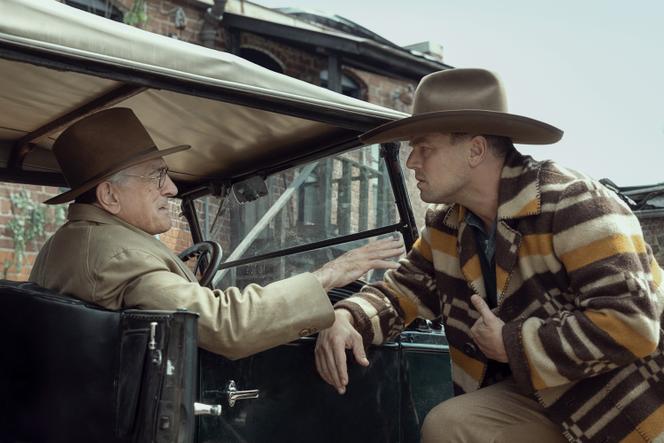 After three years of rivalry with movie exhibitors, the major streaming platforms have done a 180-degree turn, buried the hatchet and declared their love for theaters. Produced by Apple and premiering at the 76th Cannes Film Festival on Saturday, May 20, Martin Scorsese's latest film, Killers of the Flower Moon, starring Leonardo DiCaprio and Robert De Niro, will then be released in theaters by Paramount in October. In the same vein, Ridley Scott's Napoleonalso produced by Apple, will be granted a wide theatrical release in the US on November 22.
These two films will only be offered on the Apple TV+ streaming platform after a worldwide theatrical run. Similarly, Amazon released Ben Affleck's Air, which it produced, in theaters, earning $86 million (about €79 million) in worldwide revenue since April 5, according to Box Office Mojo. It was then released on Prime Video on May 12.
In France, the media chronology (the order in which films are released on different media after their theatrical release) means viewers will have to wait between 15 and 17 months to see these three feature films on Apple TV + or Prime Video.
Read more
Article reserved for our subscribers

Cannes 2023: A renewed sense of optimism for the movie business
Two behemoths
The changing film strategy of the "streamers" is already a major shift. Both Apple and Amazon are now planning to invest €1 billion a year to produce films intended primarily for the big screen, according to the American press. These are "massive newcomers that will significantly change the balances," said Eric Marti, managing director of the market analysis firm Comscore Movies. These two behemoths' desire to become cinema heavyweights and to compete with the studios is becoming increasingly evident.
During the last three years, marked by the pandemic, Apple and Amazon's strategy was to release their film production directly on streaming to increase the number of subscribers to their video-on-demand service. Some feature films were occasionally shown in a few American theaters, such as Sian Heder's Codaproduced by Apple, but only for a very short period so they could be eligible for the Oscars.
What are the reasons behind this U-turn? It enables them "to get more revenue than by just streaming the movie," said Eric Wold, an analyst at B. Riley Securities. The global rebound in attendance figures is a major reason for this new strategy. "With the exception of South Korea, the recovery is accelerating everywhere on the planet," said Marti. "Between January 1 and April 24, US box office receipts stand at only -13.8% compared to the same period in 2019," in part due to the massive success of Super Mario Bros. In China, a major rival to the US market, the gap between 2019 and this year is only 16%.
You have 63.46% of this article left to read. The rest is for subscribers only.