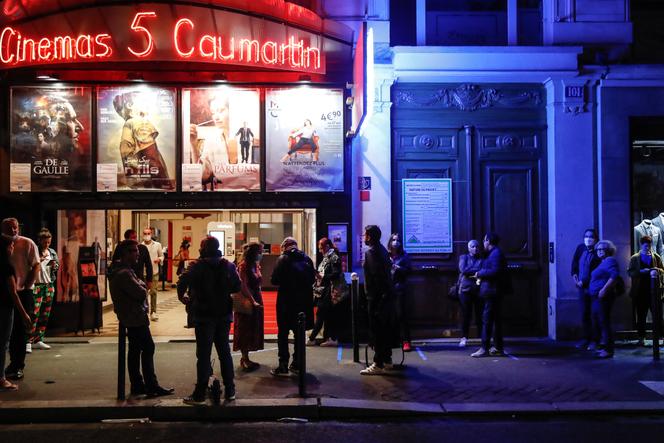 When it comes to movie-going, there is some improvement, but not yet a return to the pre-Covid years. "Movie theaters in Europe are continuing their convalescence," said Gilles Fontaine, head of the market tracking department at the European Audiovisual Observatory, which will release its annual report on Saturday, May 20, on the occasion of the 76th Cannes Film Festival.
In 2022, nearly 657 million tickets were sold in the European Union and Great Britain, compared with 401 million in 2021. As a reminder, attendance had fallen to 302 million at the height of the Covid-19 pandemic in 2020, due to the range of public health measures imposed on theaters. The threshold of 1 billion admissions, crossed in 2019, is therefore still far away.
"We are seeing significant disparities between the various countries, with good recoveries in France, Great Britain and Germany," Fontaine said. The Comscore Institute confirms this analysis with a very good start to the year in Germany: Box office receipts there grew by 15% over the first four months of the year compared to the same period in 2019, exceeding pre-Covid results. In France, revenues are now only 2% away from pre-pandemic levels. Conversely, they are still lagging by 21.5% in Spain and 30% in Italy.
Read more
In graphs: French movie theater attendance picks up
'Great news'
Europa Cinemas, a chain of 1,168 arthouse cinemas in Europe (with 2,782 screens), points to the strong recovery in attendance in Denmark, Belgium and Finland, contrasting with challenges in Greece, Bosnia and Estonia. Overall, early estimates for 2023 seem encouraging, even if "we still don't know how far this rebound will go and if the effects of the crisis can really be erased" everywhere in Europe, said Fontaine.
Some positive trends have emerged, such as the increased market share of domestic films, which, according to Claude-Eric Poiroux, CEO of Europa Cinemas, rose by 7% in 2022 in his network. Indeed, nearly a third of tickets were for domestic movies in 2022. "Great news for countries that support their industry and production!" he said.
Read more
Article reserved for our subscribers

Cannes 2023: Apple and Amazon discover the appeal of movie theaters
Laura Houlgatte is the executive director of the International Union of Cinemas (UNIC), which represents theater operators (44,000 screens) in 39 territories on the European continent. She said, "Countries where the market share of domestic cinema was significant before the pandemic all maintained it" in 2022.
Another comforting indication is that young audiences are returning to theaters. "Not only to see Marvel movies," said Poiroux. One of the initiatives launched in the Netherlands, then adopted in Belgium, Austria and Germany, is the Cineville Pass. Costing €18 a month, it's valid in all independent movie theaters in those countries and has won over thousands of fans.
You have 53.16% of this article left to read. The rest is for subscribers only.