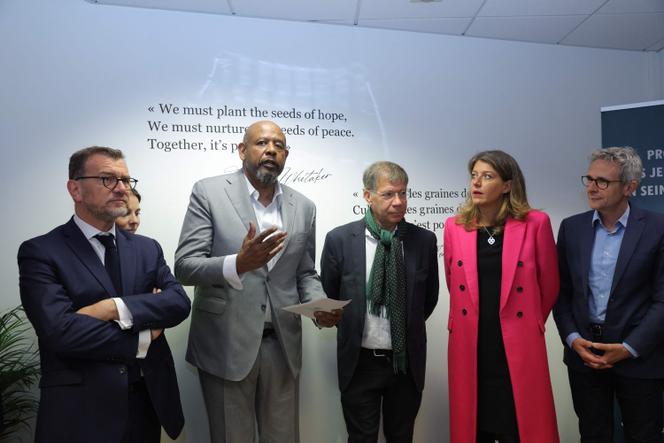 To see Forest Whitaker on the morning of Wednesday, May 17, you had to be at Aubervilliers rather than at the Cannes Film Festival. The 61-year-old American actor chose this town in Seine-Saint-Denis, in the northern suburbs of Paris, to establish the first training center in France supported by his NGO, the Whitaker Peace and Development Initiative (WPDI). He was there with the Junior Minister for Cities and Housing Olivier Klein, Mayor Karine Franclet ( UDI, center-right), and President of the Seine-Saint-Denis Departmental Council Stéphane Troussel (Socialist).
The center opened in April and already has more than 70 attendees aged between 20 and 60, from various areas across the Paris region. It plans to support more than 200 yearly, in the future. The project is financed by the BNP Paribas Foundation – which is providing the premises – and offers various free programs to help with starting businesses, conflict management and digital literacy.
The focus is notably on training young people and women, who represent about 60% of those enrolled in the program so far. "There is a real need to promote women's entrepreneurship in the region and we can see that women are seizing opportunities when they arise," commented Aminata Sidibé, the NGO's project manager in Seine-Saint-Denis.
Founded by Whitaker in 2012, WPDI has already helped 1 million people around the world. The organization was previously active in Los Angeles, the Hollywood star's hometown. He created it after his encounter with child soldiers from Uganda during the filming of The Last King of Scotland, in which he played the dictator Idi Amin (for which he won the Oscar for Best Actor in 2007). His foundation has expanded to Africa (Uganda, Chad, South Sudan) and Mexico. "WPDI's work begins with opening a center where young people are trained to become ambassadors of the program and work for peace," said the American actor, who ventured a few words of thanks in French.
Driven by 'values ​​of commitment'
The Aubervilliers branch is the first location in Europe, although the NGO has always had its headquarters in Paris. "It's a model that works in different countries by adapting to specific local features with the help of civil society associations," praised Antoine Sire, head of company engagement at BNP Paribas, which has been supporting WPDI since 2018.
Whitaker's ties with Seine-Saint-Denis date back to May 2021. The American actor paid a quiet visit to Chêne-Pointu, a neighborhood in Clichy-sous-Bois that served as the setting for Ladj Ly's film Wretched (2019). Whitaker – who is a Commander of France's Order of Arts and Letters and was awarded an Honorary Palme d'Or in Cannes in 2022 – was accompanied by filmmaker Djamel Bensalah and welcomed by Klein, who was then the mayor of the city. Whitaker said he is still marked by this visit and his meeting with the older brother of Bouna Traoré, one of the two teenagers who died on October 27, 2005, and whose deaths led to violent riots in the Parisian suburbs.
You have 27.05% of this article left to read. The rest is for subscribers only.