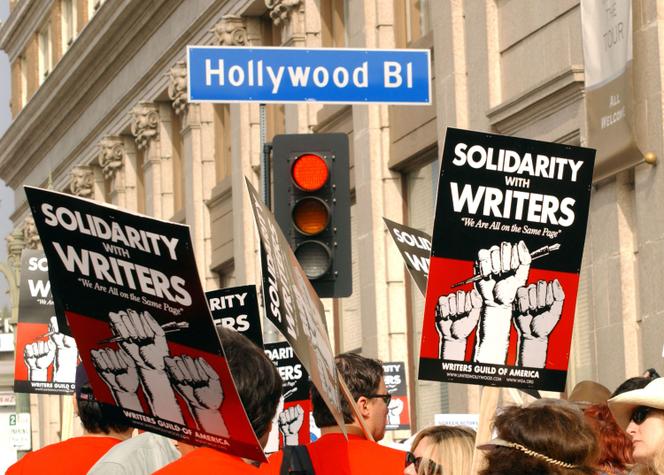 Fans of satirical late-night shows are having to settle for reruns. On Tuesday, May 2, the Hollywood writers' strike began after the failure of negotiations between their union, the Writers Guild of America (WGA), and the Alliance of Motion Picture and Television Producers (AMPTP) over writers' salaries and working conditions in the streaming era.
The WGA represents some eleven thousand screenwriters. Throughout the day, strikers stationed themselves outside the headquarters of studios and streaming platforms in Los Angeles to deter employees from entering, plunging Hollywood into an unprecedented slowdown since the Covid-19 shutdown.
Outside the Netflix headquarters, union president Meredith Stiehm encouraged those on strike, who were holding signs reading "No Pages Without a Living Wage" or "Show the Money." The WGA released a chart showing the salaries earned by entertainment industry CEOs in 2022. Disney's Bob Iger earned $45.9 million, and Reed Hastings and Netflix's Ted Sarandos $51.1 million and $50.3 million, respectively (up 32% in one year). Inflation-adjusted pay for TV writers, on the other hand, has fallen 23% in 10 years, according to the union.
"Our (union-negotiated) minimum wage has become our ceiling," said Brittani Nichols, a writer for the popular ABC comedy Abbott Elementary and a captain of the WGA, noting that the industry posted profits of $19 billion in 2022 and continues to spend billions of dollars on content creation. "Right now, the actions of the studios are ones that seem like they only care about Wall Street," she explained to Amy Goodman of Democracy Now! "They're chasing a rabbit they're never going to catch, and in that pursuit they're running over the workers of this industry."
Devalued
Writers have stopped working only six times since the WGA was formed in April 1933. The first strike, in 1960, lasted nearly five months. The longest, in 1988, lasted exactly five months. The current strike is reminiscent of the one in 2007-2008, which lasted for 100 days, costing the entertainment industry more than $2 billion.
Then, as now, it reflected the anxiety of scriptwriters in front of the development of new technology. In a statement announcing the failure of the negotiations, the WGA evoked, on Tuesday, May 2, the "existential" crisis suffered by the creators, practically reduced to the status of contract workers in the gig economy, the work-for-hire economy – and their feeling of being devalued.
Streaming has changed the duration of work. Series on the platforms are much shorter than sitcoms on TV channels. Down from 22-24 episodes on TV, seasons on Netflix or Hulu usually last no more than eight or 10 episodes. On average, a writer works 40 weeks on a TV show but only 24 weeks on an on-demand show. Writers are paid by the week, or by the episode.
You have 45.09% of this article left to read. The rest is for subscribers only.