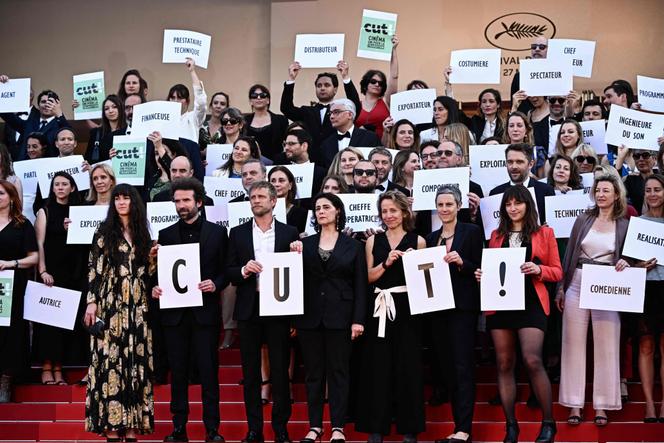 The climate is changing rapidly. One million animal species are threatened with extinction and hundreds of millions of human beings are condemned to extreme precariousness. The environmental crisis is causing our democracies, our economies and our societies to fail. As film professionals we have almost continued as if nothing had happened.
Cinema is a polluting and extractive industry. An average film shoot emits as much CO2 as 37 round trips from Paris to New York. Together, all the French movie theaters emit as much in one year as the city of Nancy. We can and must do better. For the time being, we are content with making marginal adjustments, sometimes carrying out carbon assessments and thinking about reducing the emissions of our films without disturbing our artistic ambitions too much.
But the situation requires a general mobilization and common awareness. Everything is linked, we are all linked. We are the society of entertainment. In these critical times for humanity, what are we really good for? How can we, artists and film professionals, do our part, rethink the meaning of our activities and help people adapt?
Read more
Article reserved for our subscribers

'Through film, we can inspire other ways of being in the world'
The reality is that we have superpowers. And therefore, super-responsibilities. Every day, our films reach millions of people. The theaters and films create unique bonds between humans, bringing them together around common stories that influence the way they look at and understand the world.
Just as Americans promoted and disseminated the "American way of life" throughout the world at the end of the Second World War using film, television and advertising, today we can build new representations of the world and the future. Everything must be thought, reinvented, rebuilt. But how can we create this new world if we are not first able to imagine it? Through film, we can inspire other ways of being in the world, of connecting and facing the challenges ahead.
Ambitious and magnificent tasks
Today, we call on all those who want to take up the cause to join the CUT! (Cinema United for Transition) manifesto. We do not have ready-made solutions and we will need everyone's intelligence. To do this, in collaboration with the National Center of Cinematography and Animated Pictures (CNC), we are opening three workshops led by working groups to help all those who wish to take on the following work areas.
Form: to produce, distribute, and exploit while minimizing our environmental footprint with numerous tools: sectoral charters, calculators, conditionality of state aid, among others;
Substance: to write stories that allow us to project ourselves into a more just and sustainable model of society by offering training and writing residencies to raise awareness and confront film professionals with the challenges of today's world;
Dissemination: maximizing the dissemination of works whose priority is societal impact, in particular by supporting their impact campaigns to inform, generate debate and trigger action.
You have 42.67% of this article left to read. The rest is for subscribers only.