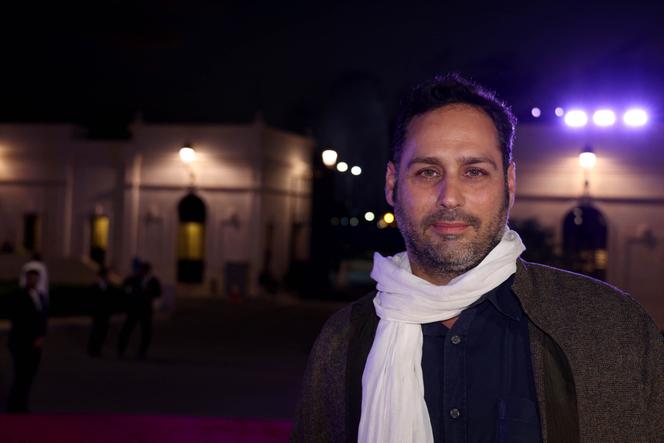 You cannot miss the poster, with its couple of lovers, who are beautiful and graceful, nor the title of the film, which seems to contradict the image: Dirty, Difficult, Dangerous. Produced by Aurora Films, the second feature film by Wissam Charaf follows the fate of a Syrian refugee and an Ethiopian maid in the director's hometown of Beirut. To survive, Ahmed (Ziad Jallad) begs for metal under the balconies of buildings, singing his refrain, "Iron, copper, batteries!" In the same affluent neighborhood, Mehdia (Clara Couturet) takes care of a senile gentleman whom she takes for walks.
Wherever they go, the two anti-heroes get pushed back like pinballs and bounce from place to place. The Lebanese-French filmmaker adds a supernatural touch to the script, somewhat in the manner of Thomas Salvador – Vincent Has No Scales (2014), The Mountain (2022): Following a bomb explosion, Ahmed's arm becomes a piece of scrap metal, but the stoic young man acts as if nothing happened. This metaphor of war contaminating the body already haunted Charaf in his first film, Fallen from the Sky (2017). In addition to being a journalist, editor and cameraman, he has covered several conflicts for the French-German channel Arte.
Where does the title of the film come from?
It comes from a classification I found on the internet while researching migrant workers: Some jobs are classified as "dirty, dangerous, difficult," or "demeaning," as in "degrading," and I found an echo of that with my characters. When they arrive in Lebanon, the Ethiopian maids have their identity cards confiscated; they are like prisoners of the host family. Ahmed and Mehdia are confronted with a permanent class struggle and are on a trajectory of avoidance.
You grew up during the civil war in Lebanon (1975-1990) and discovered radio, then video, in the late 1980s. What was your life like as a teenager?
I always learned everything by being thrown into the fire, whether it was journalism or cinema. I started as a DJ: In the summer of 1988, a friend offered me to work at his cousin's radio station… It was chaos in Beirut; there must have been 350 local radio stations. We played Depeche Mode, The Sisters of Mercy and, when it was Ramadan, we changed the register! We used to scratch on the records. It was a world of absolute freedom. I also edited music videos and teleshopping for local TV.
Then I arrived in Paris in 1998. I met Henri-Jean Debon [1968-2014], who was making music videos for Noir Désir and Sinéad O'Connor, and became his assistant. He introduced me to cinema, Bresson, Straub and Huillet, Kaurismäki, Monteiro, Chaplin, and I was completely taken in. I also did news for Arte. Having grown up in a chaotic country, I wasn't afraid to cover conflicts: I was the only one who wanted to go there, and I did the Ivory Coast, Haiti, North Korea, and so on.
You have 51.35% of this article left to read. The rest is for subscribers only.