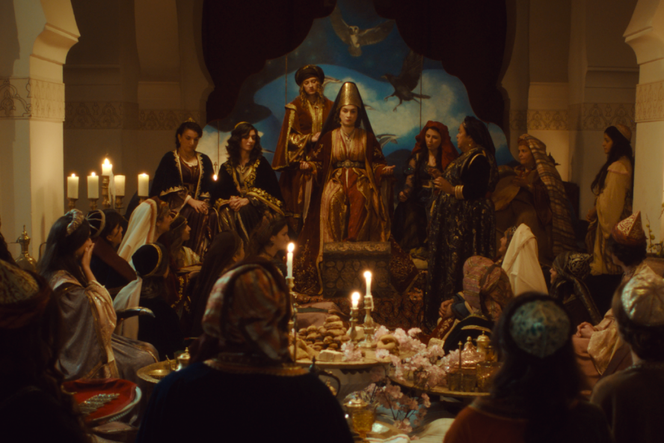 Algerian actress Adila Bendimerad plays Queen Zaphira in The Last Queen (The Last Queen), a film she wrote and directed with Damien Ounouri. In an interview, Bendimerad discusses the legend of this historical figure, playing feminist characters and how she's inspired by the women around her today.
Over the past few weeks in France, you've been holding a lot of meetings with the public. Did you anticipate this sort of reception?
Adila Bendimerad This week, 12 new theaters are hosting the film and we are really happy about that. The reaction has been overwhelming. Algerians living in France, French people of Algerian origin, French people, people from elsewhere: Everyone has been moved by this story and this Algeria that they were not aware of.
In the movies, our country is still viewed mainly in the context of colonization and the years of terrorism. Nevertheless, we've seen that the public is fascinated by this queen and also by this legacy that has never been depicted on the screen. It is the first Algerian film of the period featuring the outfits and languages ​​of the time that have not been reduced to caricatures. Yet it isn't simply a film of traditional headdresses and sabers.
Read more
Article reserved for our subscribers

Film director Rachid Bouchareb: 'The violent deaths of Arabs in France never stopped'
Where does this story come from?
We did not invent Zaphira. Stories circulate even today about this queen throughout Algeria. She is a legend, part of our intangible heritage. We could have chosen a historical figure who is better known and about whom there is more information. But what interested us were the unexplored and uncertain areas of this story.
We are obviously much more informed about the male characters, such as Aroudj Barberousse (played by Dali Benssalah), a strong, romantic character with a prosthetic arm made of silver. He is at once feared and formidable, as well as the liberator of Algiers against the Spaniards.
The figure of Zaphira has always been repeatedly disappearing and reappearing. She reminds me of Algiers itself and its battered Casbah, more than 80% razed during the colonial period. Their fates are similar: They have been erased. In the end, this is why we persisted with Damien, to put an end to the double erasure of a woman and a city. It is poetic and it allows us to create a mythology.
What image of Zaphira did you want to convey?
That of a woman who improvises, one who evolves. If King Salim Toumi (Mohamed Tahar Zaoui), her husband, had not died, she probably would not have left the palace. But with the threats to Algiers, with this new population that has arrived with the Corsairs and this historic upheaval in the 16th century, it all opened up opportunities for power to her. She was no longer invisible. By saving her son, she saved Algiers. At this point, she has become truly interesting.
There are other female characters in the film: Chegga, the second wife of the king, and Astrid, the Scandinavian wife of Aroudj. What do they tell us?
Yes, the film could have been called "The Queens". Chegga (Imen Noel) is part of a tradition where the kings of Algiers would always marry a Kabyle (Berber) princess for political and military purposes. She makes her first appearance while observing the men discussing politics from behind her mashrabiya (woodenscreen). She would like to intervene but is unable to.
Newsletter
THE WORLD IN FRENCH
Every morning, a selection of articles from The World In French straight to your inbox
Sign-up
And then there is Aroudj's Scandinavian wife (Nadia Tereszkiewicz). At one point, she says, "I wanted to harm Zaphira, but she reminds me of myself when I was a slave and struggling alone." Laboring in the shadows, she has done everything for her man. Yet he casts her aside once he is on the verge of achieving his goals: conquering Zaphira and Algiers.
You place a female perspective on a male world. How did that come about?
We wanted to tell this little-known story by way of women. But we worked together. And again, [our influence] is not necessarily where you'd expect it to be. I wrote most of the scenes where the Corsairs are throwing things at each other. I was raised with boys and had only brothers. As for the emotional scenes, they were mostly written by Damien. He grew up around women!
Some feminists have pointed out to me that Zaphira is not feminist enough. Neverthless, just because I'm an activist doesn't mean I'm going to put words in Zaphira's mouth. She didn't think about feminism. It wasn't easy to step outside the bounds and enter the public space. Those who dared to do so were and are special. My source of inspiration is Algerian women, those with whom I used to live and those I live with today. It makes a movie a bit androgynous.
Read more
In Algeria, Ramadan TV series come to the rescue of a film industry in tatters
You were in Merzak Allouache's films (The Repentant (The Repentant) and The terraces (The Rooftops)) and in Damien Ounouri's previous film (Kindil El Bhar(Jellyfish)). These are all roles involving women who set out to become free. Is this a deliberate choice?
In Algeria, when we do theater or cinema, there are always roles where the woman becomes impressive once she is out of her depth. In Kindil El Bahr, the woman I play is not a revolutionary. She is on the beach with her children, chaperoned by her mother and waiting for her husband. When she realizes that he won't be coming, she refocuses on herself, enters the water and begins doing tricks, to free herself. She has already become a hypothetical beast. It is only after his death that she becomes a vengeful sea monster. I like those characters who allow room for being moved, for the world to act on them, and who come out transformed. I always come back to these deeply affected women.