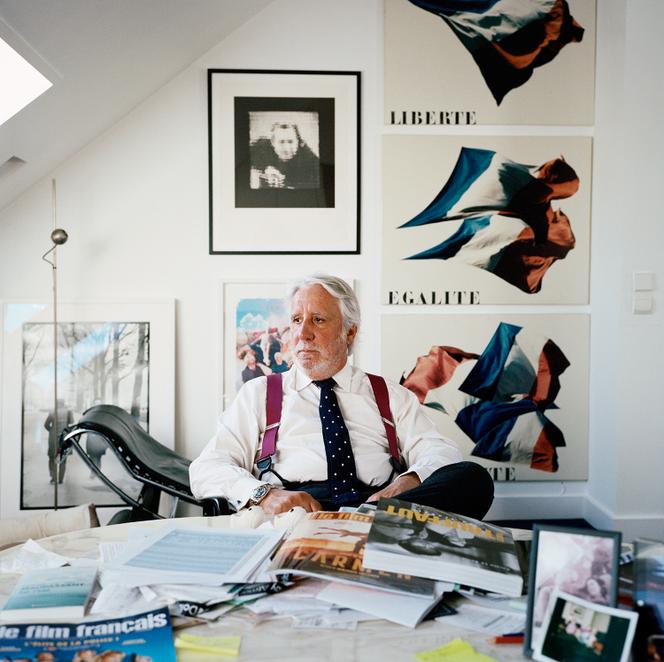 With his Rolex and his white shirt, plum-colored suspenders and trimmed white beard, Hugo Rubini looks like your average insurance broker. Except that his expansive work space, located in a building within a stone's throw of the Palais-Royal, in Paris, is decorated with movie images. Copies of movies he's worked on are lined up in the library, next to photos of his two daughters, and his marble desk is piled high with screenplays.
He is, as they say, a character: easygoing, cheerful, emotional. He apologizes for blushing, speaks quickly, regains his composure and worries about boring his interviewer. Hardly the typical personality traits of an insurer? He quoted Woody Allen's famous line in Small Time Crooks (2000): "There are worse things than death. Have you ever spent an evening with an insurance broker?"
And yet the American director owes this particular French broker a debt of gratitude: His next feature film, Stroke of luck, shot in Paris with French financing, was insured by Rubini & Associés. "It's silly, but I'm proud of it," said the 60-year-old. "I grew up with Woody Allen films. By working for him, I'm realizing a somewhat childish dream. I tell myself that some part of the film exists because of me."
A guarantee against boredom
Trained to anticipate the infinite number of calamities that can befall a film during shooting and post-production – from bad weather to epidemics and from minor technical failures to the ultimate misfortune, the death of the director or one of the main actors – Rubini found his job was a guarantee against boredom. Nevertheless, it was never a sure bet.
Born in 1961 in Boulogne-Billancourt (west of Paris), into a "traditional, strict" family, he went to school in "gray flannel pants and long socks" at the Hattemer private academy, before being sent to boarding school, after his parents' divorce, at the prim Passy Buzenval middle and high school. His maternal grandfather was an insurance broker, as was his father. Rubini preferred partying with his friends and spending time at the movies to studying his textbooks. But the family vocation would catch up with him.
"I wasn't a very good student, so my father told me to come work with him at the firm. As I had no desire to do so, I asked him to find me an internship in London." At the age of 25, he began working for global insurance star Lloyd's. He stayed there for seven years, focusing on kidnap and ransom contracts intended for wealthy families.
Read more
Article reserved for our subscribers

French movies are flopping abroad
Thanks to the movies, Rubini managed to have fun in a profession hardly known for eccentricity. Back in Paris, in 1995, he set up his own business, determined to make a place for himself in the credits alongside those he admired and dreamed of working with. His first work on a film was a success. In 1998, The Dream Life of Angels ("The Dreamlife of Angels"), Erick Zonca's first feature film, won a double award for Best Actress in Cannes for its lead actresses, Elodie Bouchez and Natacha Régnier.
You have 46.57% of this article left to read. The rest is for subscribers only.