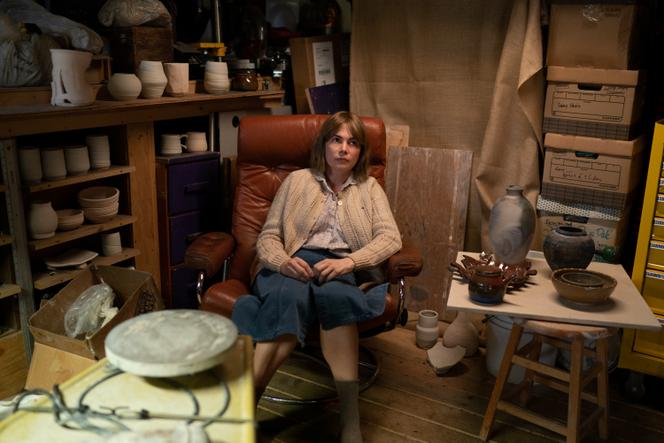 "With my friends, I'm quite open and transparent. If you were to bump into me on the street, you'd realize that immediately. With journalists, it's more complicated. If I attempt to be genuine and engage in an honest dialogue – which often gives me food for thought – and then it comes back misrepresented, or if I say significant things that lose their meaning and impact once published, all of this can be hurtful." Over the phone, from the other side of the Atlantic in Brooklyn, where she has lived for many years, Michelle Williams speaks in a gentle yet resolute voice. At 42 years old – with 30 of those spent in front of the camera – she has encountered many reporters asking her to share her life story.
The world had a missed rendezvous at the 2022 Cannes Film Festival (the actress didn't make it as she was pregnant) where Kelly Reichardt's film, Show-Up, now in theaters, was presented. Since then, she has been seen in Steven Spielberg's The Fabelmans, portraying an incredibly delusional mother in this real-life fake biopic by the director. The role is somewhat ironic, considering she began her career in 1998 in the TV series Dawson's Creekplaying a teenager who learns from her film-obsessed boyfriend that "the entire universe is in Spielberg."
The rest of her career has resembled the many transformations of a chameleon. A "polymorphic" actress, as she was described by Kenneth Lonergan, who directed her in Manchester by the Sea (2016), for which she was nominated for another Oscar, 10 years after Brokeback Mountain (2005). Capable of transforming into Marilyn Monroe for Simon Curtis's film (My Week with Marilyn2011), as well as signing on for the Marvel franchise (Venom2018 and 2021), Williams has continued to alternate between independent features (I'm Not Thereby Todd Haynes, in 2007) and blockbusters (Shutter Islandby Martin Scorsese, in 2010, All the Money in the Worldby Ridley Scott, in 2017).
Read more
'Showing Up' review: Kelly Reichardt depicts the life of an artist at work
Four films with Kelly Reichardt
Within his filmography, director Reichardt holds a special place. Together, the two women have made four films (out of the eight that make up the filmmaker's body of work). "As a friend, Kelly is the funniest woman," said the actress. "As a director, she is uncompromising, precise, and direct. She has a very clear vision of what she wants, she knows how to achieve it, and she takes you there."
Between mutual friends, New York and a chance encounter at a Yo La Tengo concert, it was cinema that truly brought them together and cemented their bond. "I had heard a lot about her as a director," said Williams. "So, I got my hands on Old Joy [2006]. And I wanted to get into her world. I wanted her to choose me, to become a 'Kelly Reichardt actress.' I received and read the script for Wendy and Lucy [2008], and I said yes immediately. It was then, when I moved to Portland [Oregon] with my daughter to work on the film, that we really got to know each other intimately."
You have 52.53% of this article left to read. The rest is for subscribers only.