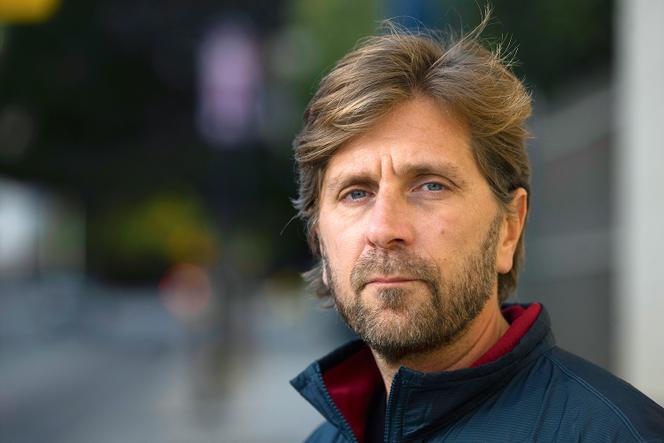 Selma Lagerlöf, Stieg Larsson and Ruben Östlund? "They are all fantastic writers," Parisa Liljestrand, Sweden's new culture minister, told public television SVT on October 25, 2022, sparking an outpouring of mockery. Appointed a week earlier, the unknown conservative politician appeared ignorant that Östlund, two-time winner of the Palme d'Or at the Cannes Film Festival and president of the 2023 jury, was a filmmaker, not an author.
Six months later, contacted by telephone in Brussels where the Cinematek is devoting a retrospective to his work, Östlund was still laughing. But it was hard not to see a sad reality behind the anecdote. "The relationship of Swedes to culture is completely absurd," Östlund said, describing a lack of cultural policy and a country that has "marinated for decades in Anglo-Saxon and American culture." Cinema was not immune: "If Swedish films are doing better than ever at [international] festivals, film culture is not doing well."
Local productions accounted for only 19.7% of film market share in Sweden last year – compared to 40.9% for French films in France. But 2022 came as the year of all records in Cannes for the Scandinavian kingdom: In addition to the Palme d'Or won by Östlund's Triangle of Sadnessafter that of The Square in 2017, the jury chaired by French actor Vincent Lindon awarded the Award for Best Screenplay to the Egyptian-born Swedish director Tarik Saleh for Boy from Heaven and the Award for Best Actress to Zar Amir Ebrahimi for her role in Iranian-Swedish Ali Abbasi's holy spider.
Three Oscar nominations and six Guldbagge awards
However, none of these three films were among the top 10 blockbusters from the United States, with Top Gun: Maverick and its 730,000 tickets in the lead. Among Swedish productions, I am Zlatan, by Jens Sjögren, took first place, ahead of a comedy and two animations. Ostlund's Triangle of Sadness only made it to fifth place. Remaining in theaters for many months this year, the comedy is now on the verge of surpassing the 200,000 spectator mark (in a country whose population is estimated at 10 million). "It's a very good number," said Anette Novak, president of the Swedish Film Institute in Stockholm, adding the independent film was "not necessarily easily accessible."
Read more
Article reserved for our subscribers

Cannes 2023: A renewed sense of optimism for the movie business
Mikael Fellenius, chief executive of Film i Väst, which co-produced Triangle of Sadness, estimated that it should have achieved "at least 350,000 admissions" given its Palme d'Or, three Oscar nominations and six Guldbagge ("golden scarabs," the Swedish equivalent of the French Césars). So how can the very relative interest of the Swedes in their national productions be explained? According to Novak, "one should not mistake visits to cinemas with interest in Swedish films," which viewers watch at home on streaming platforms, reserving their physical visits to cinemas for "well-known brands" – a cinema ticket costs almost €15 in Sweden.
You have 40.56% of this article left to read. The rest is for subscribers only.