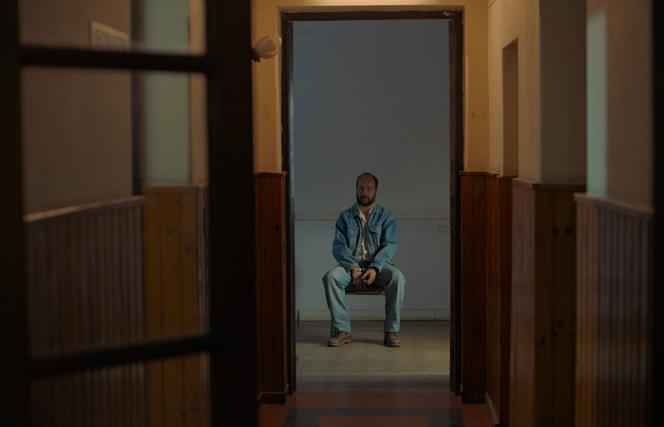 IN SOME PERSPECTIVE
Argentine director Rodrigo Moreno, surrounded by his team, apologized on stage for the length of his film. At that time, The Delinquents, presented at Un Certain Regard, promised nothing but to keep us in our seats for three hours. Before the lights went out in the theater, we only hoped that the director's new film would bear the imprint of the extreme talent he showed in his first feature, The Minderin 2006.
The film's first few shots helped to reassure us. Like a knowing wink, the sequence shows a man in his 40s getting ready in an apartment that is barely lit by morning sunlight. He's in no hurry. His gestures are part of a long-established ritual; they guarantee the punctuality that, one suspects, our character has shown for years at work.
This opening reminds us of another, which is almost identical: the one that opened The Minder. It's a direct reference to Rodrigo Moreno's signature style. The director loves nothing more than to meticulously observe the slow progression of daily life, the repetitive actions that give it rhythm, the accompanying inertia. He does this by focusing on insignificant and self-effacing people, whose lives are equally insignificant.
Three and a half years in prison
This is the case of the main character in the film, a single bank employee played by Daniel Elias, who seems only to be distinguished by his first name, Moran. He expects nothing from life, and we don't expect any more from him. However, he ends up surprising us when he steals the modest sum of $90,000 from the bank. Half of it will ensure him a monthly salary identical to the one he receives already. He plans to give the other half to one of his colleagues, Roman (Esteban Bigliardi). Roman is as transparent as he is, almost his twin, as his first name indicates, an anagram of Moran.
This alter ego is unaware of the theft and learns of it at the same time as he hears about his mission: to hide Moran's share of the money for the duration of his prison time, as Moran had planned to be arrested and was going to turn himself in. For such a crime, he found out, the sentence is six years, or three and a half if he demonstrates good behavior in prison. This is not a lot to ask for, to be safe from money worries for the rest of his life. Despite the recipient's reluctance – his courage, it must be said, is not overwhelming – the deal is finally concluded. The affair goes as planned, at least at first.
An investigation is launched and it makes Roman, the man guarding the windfall, nervous. During a country get-away, he falls in love, which leads to his wife leaving him. Meanwhile, in prison, Moran is dealing with some very angry bosses.
You have 32.82% of this article left to read. The rest is for subscribers only.