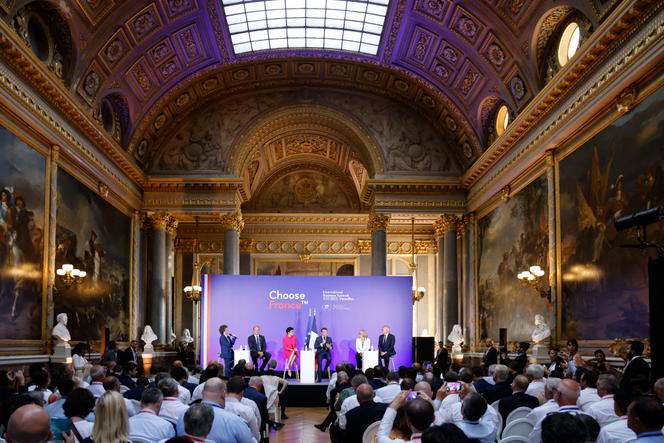 The sixth edition of Choose France summit might be described as a vintage to remember, as key foreign investors gather in Versailles on Monday, May 15, in the presence of President Emmanuel Macron.
With more than 200 business leaders in attendance, the summit will be the scene of many announcements, including 28 projects, new or extended, worth a total of €13 billion euros, more than in 2022 (10.6 billion) and 2021 (3.6 billion) . The foreign investments will result in 8,000 direct job creations, in particular in medium-sized cities. The scope of the announcements confirms an Ernst and Young (EY) survey published on May 12, which found that France remains the most attractive country in Europe in terms of the number of projects – if not jobs created – and in the area of ​​research and development (R&D).
The president will not give a speech in Versailles because he already outlined his industrial policy on Thursday at the Elysée Palace and on Friday in Dunkirk, when he spoke of reindustrialization as the "mother of all battles." In an interview published Monday by Opinion, he attributed France's attractiveness to "clear, bold reforms and above all that we maintain them, and this despite the Yellow Vest movement crisis, despite the war, despite inflation, despite the protests." He called it "a total constancy of macroeconomic policies." In particular, he cited the decrease in corporate taxation, which is returning to the European average.
Editorial
France bears the first fruits of reindustrialization
As in previous years, the president will meet face-to-face with the heads of six foreign groups: US-based Pfizer and Disney, Denmark's Novo Nordisk, Belgium's Solvay, India's Arcelor Mittal and Thailand's CP Group, a giant conglomerate active in agribusiness and retail. On Monday morning, he also met with Tesla and Twitter owner Elon Musk. He will have to reassure them because, according to EY's "Barometer of France's Attractiveness," fewer foreign executives than in previous years are optimistic about investment prospects over a three-year horizon.
For the time being, investments are in line with the "greenifying" of the economy. The Elysée emphasized that many projects are "emblematic of green reindustrialization," allowing France to "position itself at the heart of the value chain for the production of equipment in the renewable and low-carbon energy sectors, as well as for electric vehicles." Two flagship projects in Dunkirk, announced on Friday, concern electric vehicles.
Read more
Article reserved for our subscribers

Northern France dreams of becoming Europe's battery valley
Reducing dependence on Chinese products
Taiwan's ProLogium will invest €5.2 billion by 2030 to build a factory producing solid-state batteries, an alternative technology to lithium-ion, with some 3,000 jobs at stake. Not far away, the Chinese battery materials producer XTC signed joint venture agreements with the nuclear group Orano to manufacture precursors and cathodes and for recycling. The investment will total €1.5 billion.
You have 57.59% of this article left to read. The rest is for subscribers only.