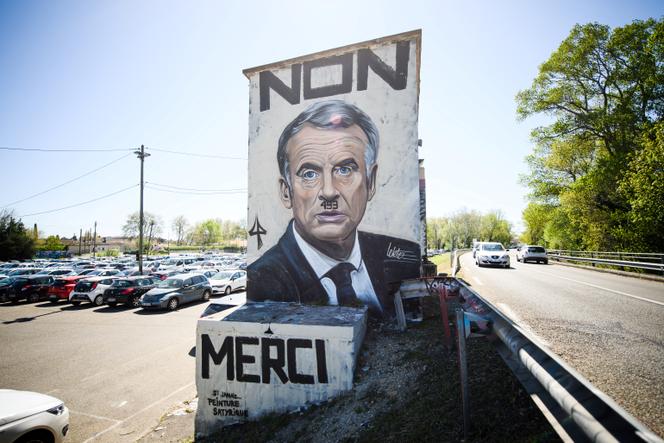 For Avignon's mayor Cécile Helle (Socialist Party, PS), these were "unacceptable actions." They were a "conflation with the darkest hours of our history," said the prefect of Vaucluse, Violaine Demaret, and should be subject to "absolute condemnation," said Renaud Muselier (Renaissance, President Macron's party), president of the Provence-Alpes -Cote d'Azur region. Local and national elected French officials are unanimously condemning the fly posting on the night of May 17 to 18 of caricatures depicting President Emmanuel Macron with graying temples and a "49.3" as a mustache, in a transparent allusion to Adolf Hitler and a reference to Article 49.3 in the French Constitution, which the Macron administration used to force through the pension reform without a vote in the National Assembly. The poster includes a quote from Gandhi on the "sacred duty" of "civil disobedience" when the state becomes "lawless or corrupt."
A dozen of these posters, where the caricature of Macron is framed by the words "No thank you" and the hashtag #agirousubir ("Act or suffer"), were pasted on Avignon billboards, before being removed during the day on Thursday by municipal services. The posters reproduce a mural by Lekto, a local graffiti artist, which had already caused controversy in April. Drawn on a parking lot in the city, it had been erased immediately, at the request of the Avignon city administration.
No one knows for now who is responsible for the posters. On social media, local activists of Florian Philippot's Les Patriotes party, which had actively opposed the government's health policy since the Covid-19 pandemic, were the first to welcome on Thursday this "beautiful response from the people of Vaucluse" who "indicate their rejection of Article 49.3 and authoritarianism," dismissing the controversy and regarding the graffiti as simple "political provocation." When contacted, Victor Valero, local leader of Les Patriotes, a far-right party, said he had nothing to do with this display, which he "discovered" when he left his home, but "supports this initiative," which was also welcomed on social media by several groups inclined to conspiracy theories and hostile to vaccination against Covid-19.
Graffiti artist Lekto, who did not respond to The World's requests for an interview, already enjoys a certain popularity in anti-vax and anti-government circles. Active since 2020, Lekto has created a number of provocative murals on current events, with an anti-government slant and hostile to the "mainstream" media, shown as dogs on a leash in one of the pieces created in 2022.
You have 47.47% of this article left to read. The rest is for subscribers only.