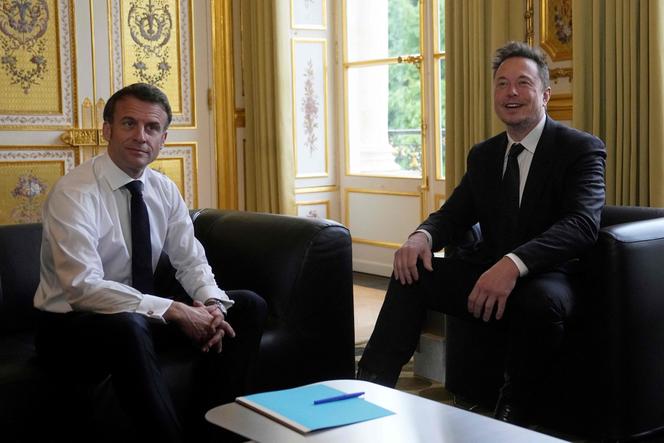 For the French government, Elon Musk's visit to France was a small event. On Monday, May 15, the head of Tesla, SpaceX and Twitter was in Paris and Versailles for Choose France, the gathering of business leaders convened by the French President as an annual ritual. Several French officials seized the opportunity to appear with the American innovator. Jean-Noël Barrot, Minister Delegate for Digital Transition and Telecommunications, proudly posed next to him on his Instagram account. Macron satisfied his supporters with a photo at the Elysée Palace, where he can be seen talking with Musk, smiling. Economy Minister Bruno Le Maire posted a selfie on LinkedIn with the former richest man in the world.
The caption of this photo praises a "constructive exchange" on the subject of "climate," "electric vehicles," "artificial intelligence," "the appeal of France" and "space." Beyond these discussions, however, the government was hoping to obtain a commitment from Musk to invest in France. In vain. Musk merely said he was "confident [that] Tesla will make significant investments in France."
But this very vague promise is not the real problem with the visit, the reception and the staging of Musk's presence at Choose France. Macron and his ministers probably thought they were showing off with the visionary boss of Tesla, who helped popularize electric cars, and SpaceX, who revolutionized the space industry. But it's 2023. No one can ignore that Musk is an extremist who has plunged a social medium with an already ambiguous role in the democratic debate into the abysses of conspiracy and disinformation.
He is the herald of the American far right, who disseminates the appeals of the American white supremacist movement, who Le Maire was standing shoulder to shoulder with a cellphone at arm's length. This is the head of a social network who had favored the autocrat Erdogan two days earlier by censoring his opposition on the eve of an election. The man Macron received.
You don't need to be a close follower of his messages to understand that Musk is not just a successful CEO. A quick review of his tweets should convince any politician that Musk would more appropriately be the subject of a parliamentary commission of inquiry or regulatory review than an invite to the Elysée Palace.
Hate and misinformation
In a matter of hours after leaving Macron, Musk returned to his anti-Semitic obsession. In a tweet on May 16 at 9 pm, viewed more than 6.2 million times, he accused financier George Soros of wanting to "erode the very fabric of civilization." "Soros hates humanity," Musk continued, no longer even pretending to hide his ideas.
You have 44.38% of this article left to read. The rest is for subscribers only.