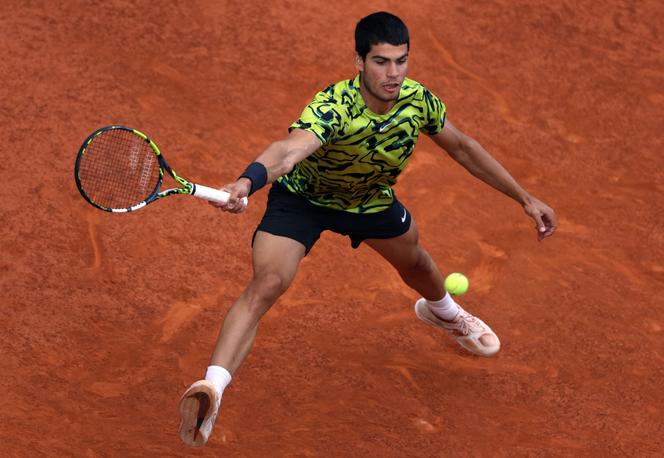 Precocious tennis star Carlos Alcaraz, the youngest world number one since the creation of the ATP rankings, continues to break records, and he won't be caring about the technicalities. Alcaraz, heir apparent to Novak Djokovic, was just 19 years, 4 months and 6 days old when he won the US Open in early September 2022. He is guaranteed to return to the top of the world rankings on May 22, the day after the Rome tournament, which he has never played before. Competing in just one match in this Masters 1000 − where he starts on Saturday, May 13, against his compatriot Albert Ramos-Vinolas − will be enough to automatically put him back in front of the Serb, who took the number one spot after Alcaraz lost in the semifinals of the Miami tournament in early April.
Read more
US Open: Victorious Carlos Alcaraz becomes youngest ever world number 1
The Spaniard continues his stunning start to the season, which was delayed due to a right leg injury that kept him out of the Australian Open. Since then, the prodigy from El Palmar (Murcia) has lost just two matches and won 29, notching up another four titles (from five finals) for his trophy cabinet, which now has 10. Even before the Rome tournament at the Foro Italico, he will be the favorite at the French Open from May 28 to June 11. His glorious compatriot Rafael Nadal is still doubtful about his chances of being able to defend his title, which he has won 14 times.
After Buenos Aires, Indian Wells and Barcelona, ​​in Madrid on May 7 he retained the title he won last year, his fourth in the Masters 1000. But it was a painful experience. Jan-Lennard Struff of Germany, who was beaten in qualifying and then qualified as a lucky loser, almost pulled off the heist of the decade, having found some weaknesses to try to destabilize his junior, who turned 20 on May 5.
'Even Federer, Nadal and Djokovic did not have such a complete package'
"If he has time, if he can organize himself, he's just too good, so I tried to give him less time," said the then world number 65 (he has since moved up to 28). "He was standing very far behind his line on the return so I thought he wanted to put the ball back to start the rally and I managed to avoid that by going to the net. I feel like that diminished his quality on the return."
The strategy paid off in the second set. Alcaraz was pushed around like he hasn't been since the beginning of the European clay court season, but his muscular arm didn't waver for long (6-4, 3-6, 6-3). He promptly displayed his repertoire of skills, a game with no apparent weaknesses and full of panache. At ease in both defense and attack, the right-hander already knows how to do everything, including rushing to the net, drop-shots (his favorite), precise lobs and adjusting his tactical plans depending on his opponent.
You have 48.98% of this article left to read. The rest is for subscribers only.