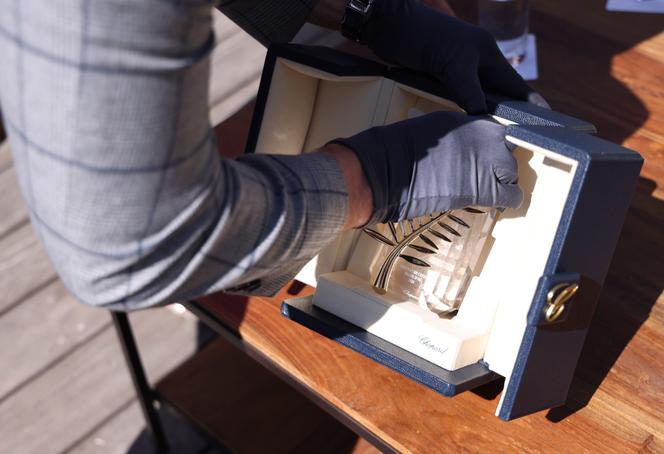 Who will seize the top price after Ruben Östlund's Triangle of Sadness? Following 12 days studded with glitter and stars, the 76th Cannes Film Festival ends on Saturday, May 27, with the award of the Palme d'Or, the festival's highest prize, to one of the 21 films which were competing this year in what will be remembered as a wide open contest right to the very end.
The Swedish director, who won his second Palme last year, presides over the jury which is expected to award its prizes from 8:30 pm local time.
Östlund, who promised in an interview with Agence France-Presse "a very democratic approach to the presidency," will have to decide along with the four women and four men on his jury, including director Julia Ducournau (TitaniumPalme d'Or 2021) and actress Brie Larson, Afghan writer Atiq Rahimi or actor Denis Ménochet.
"I like to listen to what everyone says about different films. […] I don't intend to be an authority figure in any way," Östlun said.
As the competition draws to a close, the suspense is intense. Still, there are a few favorites: Finland's Aki Kaurismäki, a Festival regular and one of Östlund's favorite directors, received high praise for his ultra-melancholy Fallen Leavesa Baudelairean romance between two lonely souls in rainy, working-class Finland.
The prize list will take a more political turn if the jury decides to crown Britain's Jonathan Glazer and his The Zone of Interest. His masterful film comes as a reminder of the appalling "banality of evil". It describes clinically and chillingly the nonchalant daily life of the family of the commandant of the Nazi extermination camp Auschwitz.
Read more
Cinema's return to the good old days
hollywood legends
His fellow countryman, Ken Loach, 86, could also enter the pantheon of cinema by becoming the first director to win a third Palme d'Or in his lifetime, following The Wind That Shakes the Barley (2006) and I, Daniel Blaker (2016). On Friday evening, he was the last to take the steps for The Old Oak, a film depicting tensions in a town hosting Syrian refugees.
On the acting awards side, Germany's Sandra Hüller, who stunned Cannes in 2016 with her performance in Toni Erdmanappears as a serious contender: She excelled in two films, playing the Nazi commander's wife in The Zone of Interest and a widow accused of killing her husband in Justine Triet's Anatomy of a Fall.
Partner service
Learn French with Gymglish
Thanks to a daily lesson, an original story and a personalized correction, in 15 minutes per day.
Try for free
Triet's latest film, a two-and-a-half-hour drama, is one of the most critically acclaimed on the international scene. Should it win the Palme d'Or, Triet would become the third female director in the Festival's history to win an award, after Jane Campion's The Piano Lesson (1993) and Ducournau.
The 76th edition will also be remembered by a controversy over Johnny Depp's comeback after his libel suits over accusations of domestic violence, a strong presence of African cinema and a return of Hollywood legends to the Croisette. Among those who made the trip: Martin Scorsese, who came to present his latest film, Killers of the Flower Moonwith Leonardo DiCaprio and Robert De Niro, Harrison Ford, who walked the steps for the latest IndianaJones and a farewell to the archaeologist character and actress Jane Fonda and director Quentin Tarantino, each of whom came to talk about cinema and their careers.
Read more
Cannes 2023: Here are the films competing this year