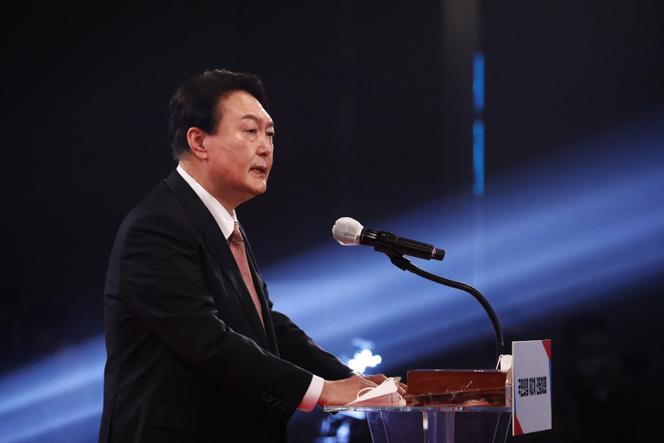 Oorganized with great fanfare for the 70th anniversary of the security alliance between Washington and Seoul, conservative South Korean President Yoon Suk Yeol's late April visit to the United States could not dispel mutual distrust over military nuclear capacity. South Korea is concerned about its deteriorating security environment, North Korean nuclear development and tensions between the Chinese, Russians and Americans. It hoped that Washington would agree to deploy nuclear weapons on its soil for deterrence purposes, or even let it develop its own arsenal.
Tea Washington Declaration signed by Yoon and US President Joe Biden calls for the creation of a Nuclear Consultative Group to help coordinate the deployment of US nuclear-capable submarines, aircraft carriers and other bombers. The goal is to allow South Korea to better understand the American notion of "extended deterrence" protecting it.
The initiative resembles the NATO framework currently in place. However, it differs in that it does not include the nuclear sharing that Seoul wants. And in exchange for the creation of the Nuclear Consultative Group, Yoon has committed to abide by the obligations of the non-proliferation treaty and the US-South Korea nuclear energy agreement. In other words, Seoul will renounce developing a nuclear arsenal.
Read more
Article reserved for our subscribers

Japan and South Korea aim to forge closer ties in US shadow
"Mr. Yoon's and Mr. Biden's positions are not reassuring," wrote the conservative South Korean newspaper Chosun Ilbo. They are "the product of mutual distrust between South Korea and the United States," added Lee Je-hun, an analyst for the center-left newspaper Hankyoreh.
The failure of rapprochement
This is a long-standing mistrust. In the 1970s, the US, fearing an arms race, blocked the attempts of authoritarian president Park Chung-hee (1961-1979) to launch a nuclear development program. Park feared being abandoned by the American ally in the wake of the rapprochement between Washington and Beijing and the withdrawal from Vietnam – where South Korean forces had fought at the request of the US. At the same time, the US Congress was increasingly critical of Seoul's disastrous human rights record.
Analysis
The growing threat of North Korea, which is launching missiles more frequently and at longer range
The issue of nuclear development in South Korea – now a democracy – is resurfacing in the midst of a crisis on the peninsula and against a backdrop of tensions in East Asia. Dialogue is at a standstill with North Korea, which is firing missiles and getting closer to Moscow and Beijing. Indeed, the Chinese and North Koreans have strongly criticized the Washington Declaration.
You have 54.89% of this article left to read. The rest is for subscribers only.