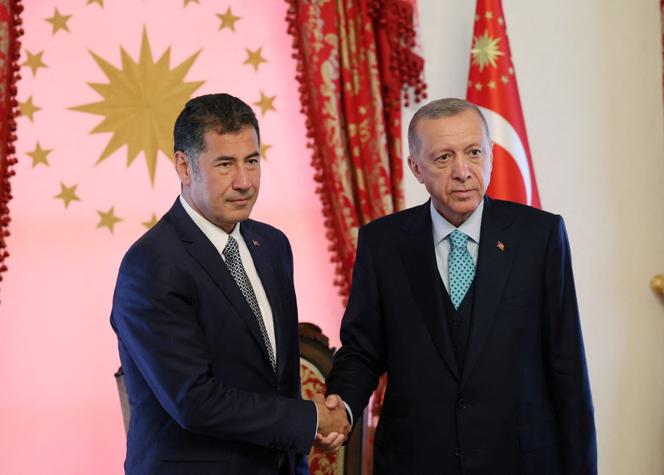 An ultra-nationalist who finished third in Turkey's election threw his support Monday behind President Recep Tayyip Erdogan ahead of this weekend's historic runoff vote. Sinan Ogan's 5.2% of the vote in the May 14 general election helped deprive Erdogan of a first-round victory for the first time in his 20-year rule.
Neither Erdogan nor his main challenger, opposition leader Kemal Kiliçdaroglu, secured the majority needed for a first-round victory on May 14, placing Ogan as a potential kingmaker. His endorsement of Erdogan came days after he held a surprise meeting with the Turkish leader in Istanbul on Friday. No statement was made following the one-hour meeting.
Read more
Article reserved for our subscribers

Sinan Ogan, the unexpected kingmaker in Turkey's presidential election
Ogan had attracted votes from people who disapproved of Erdogan's policies but didn't want support Kiliçdaroglu, who leads Turkey's center-left, pro-secular main opposition party.
Erdogan received 49.5% of the votes in the first round – just short of the majority needed for an outright victory – compared to Kiliçdaroglu's 44.9%. Erdogan's ruling AK party and its nationalist and Islamist allies also retained a majority in the 600-seat parliament.
Ogan listed the conditions to earn his endorsement while speaking to Turkish media last week. Among them were taking a tough stance against the Kurdistan Workers' Party, or PKK, and a timeline for the expulsion of millions of refugees, including nearly 3.7 million Syrians.
Read more
Article reserved for our subscribers

Turkey elections: How Erdogan beats expectations
In an apparent attempt to sway nationalists voters, Kiliçdaroglu hardened his tone last week, vowing to send back refugees and ruling out any peace negotiations with the PKK if he were elected.
Erdogan, meanwhile, told CNN International in an interview that he would not bend to such demands. "I'm not a person who likes to negotiate in such a manner. It will be the people who are the kingmakers," he said.