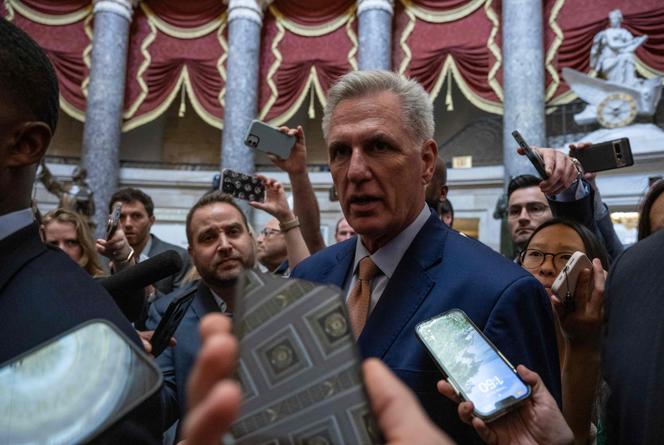 The rating agency Fitch placed the USA's AAA rating on negative watch on Wednesday, May 24, as the US Treasury claimed it will be unable to pay its bills from June 1. "It seems almost certain that we won't be able to get past the beginning of June," said Treasury Secretary Janet Yellen.
At issue is the debt ceiling. Set at $31.4 trillion by Congress, it will probably be reached in early June, after months of accounting and financial gimmicks. Negotiations on raising the ceiling are continuing behind closed doors between the Republicans, who have a majority in the House of Representatives, and the White House.
The Republicans, led by House Speaker Kevin McCarthy of California, want to make the increase conditional on spending cuts. Officially, Democratic President Joe Biden does not want this, denouncing it as blackmail. But he's negotiating anyway.
Nevertheless, the affair endangers global financial stability and reveals Washington's political paralysis. In its press releaseFitch denounces "increased political partisanship that is hindering reaching a resolution to raise or suspend the debt limit despite the fast-approaching x date."
The agency sharply criticizes Washington. "The contested 2020 presidential election, brinkmanship over the debt limit to advance political agendas, and failure to reach consensus on the country's fiscal challenges are recent signs of the deterioration in governance."
Further deterioration in public finances
Biden repeats that he has halved deficits, but that's only because Covid-19-related programs passed under his tenure, with a Democratic majority in the House, and under Donald Trump's, are coming due.
In fact, Fitch predicts a sharp future deterioration in US public finances. The agency "now forecasts a general government deficit at 6.5% of GDP in 2023 and 6.9% of GDP in 2024, up from 5.5% in 2022," adding that "a rising interest burden and growing spending on entitlements over the coming decade will keep the deficits at above 7% of GDP on average."
The other two major agencies, S&P and Moody's, have not yet been budgeted. S&P is the only agency to have stripped the US of its triple-A rating since a similar crisis in 2011.
Read more
The US faces default: Five questions about the debt ceiling
The Republicans believe they have the upper hand in this game. They have passed a bill in the House providing for clear cuts in the budget, and Biden is negotiating, contrary to what he had said. Biden is accused of having waited far too long. Above all, he failed to take advantage of the session between the mid-term elections in November 2022 and the inauguration of the new Republican-majority House in early January 2023, to raise the famous debt ceiling, which the US media claim Treasury Secretary Yellen had advised him to do.
You have 49.87% of this article left to read. The rest is for subscribers only.