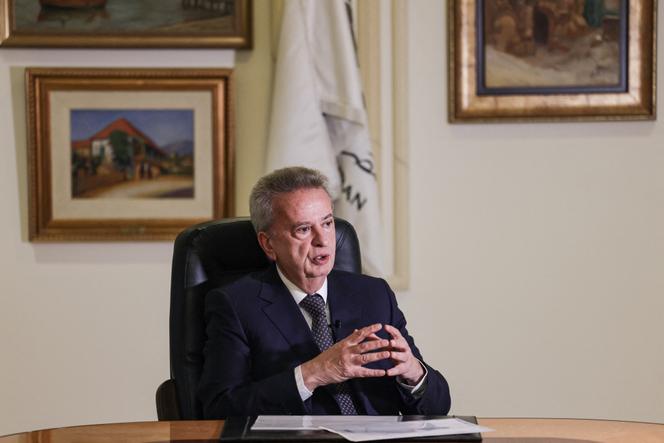 A French investigating magistrate on Tuesday, May 16, issued an international arrest warrant for Lebanon's central bank chief Riad Salameh, a source close to the case said. Salameh earlier failed to appear for questioning by French investigators who want to know how he amassed sizeable assets across Europe, his lawyer said.
Salameh has run Lebanon's central bank since 1993. The investigators suspect Salameh of building his network of real estate and banking assets with the help of a complex fraudulent financial system and extensive misuse of Lebanese public funds during his three decades as central bank boss. Tuesday's hearing would have been an opportunity to press charges against him.
His lawyer, Pierre-Olivier Sur, told Agence France-Presse (AFP) that the summons had been sent too close to the day and was therefore "invalid." A Lebanese legal source told AFP this week that the authorities there had failed to serve Salameh with the summons, despite four attempts by police to deliver it to the central bank.
After Salameh failed to show on Tuesday, the magistrate in charge of the case had the option of issuing a fresh summons, but instead decided to issue an international warrant for his arrest. Salameh, 72, who has been under investigation in France since July 2021, rejects the accusations.
Read more
Article reserved for our subscribers

Lebanese and European judges begin cooperation on central banker Salameh case
'One day he will be arrested'
Since the start of the year, magistrates from European countries have traveled to Lebanon on three occasions to interview the central banker and his entourage. At least two people have been charged in connection with the case in France.
"One day or another he will be arrested," said William Bourdon, a French activist lawyer who represents two associations among the plaintiffs. But, Bourdon added, Salameh was benefitting from "systematic obstruction by some Lebanese magistrates, in complete contradiction to their obligations towards France".
Salameh's lawyer rejected Tuesday's issuing of a warrant. "I see this purely and simply as an abuse of power," Sur said.
The implications of the arrest warrant were not immediately clear. Lebanon does not extradite its nationals. Salameh could meanwhile risk arrest when traveling to other countries.
Partner service
Learn French with Gymglish
Thanks to a daily lesson, an original story and a personalized correction, in 15 minutes per day.
Try for free
In March 2022, France, Germany and Luxembourg froze assets worth €120 million ($130 million) believed to belong to Salameh. The Paris appeals court is to examine later this month whether the French part of the seizures was carried out legally.
Read more
Article reserved for our subscribers

Lebanon: The investigation into the Beirut port explosion turns into a judicial battle