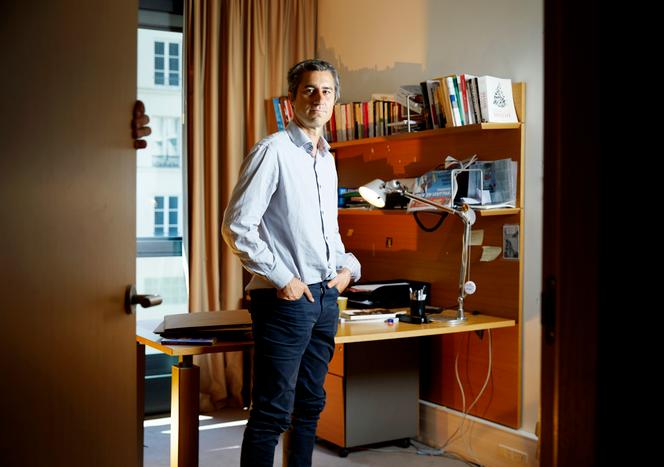 Being designated as the candidate of the left four years before the presidential election does not bring only advantages. Francois Ruffin is experiencing this. On morning shows, journalists often ask questions he cannot answer. They start with: "If you were in power…" It happened again on April 13, on Franceinfo radio. "Would you agree to meet with Taiwan's representatives?" he was asked. "Today, I don't know." Very much consensual with the left in recent months – except within his own party – the radical left La France Insoumise (LFI) member of Parliament knows how to pick his battles and to skip, when needed, the controversial votes in France's Assemblée Nationale.
This art of evasion has become increasingly tricky since it has been at the forefront. If the former journalist is so heavily exposed, it is because he wanted to be. But it is also because, since January, Jean-Luc Mélenchon, the founder of LFI and a former candidate in the presidential elections, has been touting him as a potential candidate for the 2027 contest, even going so far as to declare that he is "ready." But he also forbids him from crossing LFI's boundaries. "François Ruffin is one of us: An anti-capitalist, a pro-Nupes (New Popular, Environmental, and Social Union, a coalition of left-leaning parties) and his views are shared by many," Mélenchon wrote on his blog earlier this month. Yet, in an interview with weekly magazine The Obs in November last year, Ruffin proclaimed a desire to restore social democracy.
On May 6, also on his blog, Ruffin responded to Mélenchon. In a long argument, he claimed that he was, and would remain, "in the continuity" of the LFI founder's positions, adding he would not incarnate the "nice Ruffin against the nasty Mélenchon." However, he said he still believed it necessary to end with the "noises and moods" of the "rebellious" LFI MPs under French President Emmanuel Macron's first five-year term. According to Ruffin, the time has come to "reassure" and stop scaring voters.
Read more
The French left's Mélenchon problem
'I'm expanding my playing field'
Among the ranks of the left, voting intention polls that give Mélenchon and Ruffin above the 20% mark are closely scrutinized. Although the methodology – four years ahead of the election when the list of candidates is still unknown – is less than certain. In opinion polls, their strengths and weaknesses are analyzed in detail. They reveal trends: Mélenchon fares well among young people and poorly among older people, whereas it is the opposite for Ruffin. Mélenchon is known to all but rejected by part of the electorate. Meanwhile, Ruffin is still unknown to half of the French population but for this reason is more consensual – and has the potential to build a reputation for winning.
You have 61.46% of this article left to read. The rest is for subscribers only.