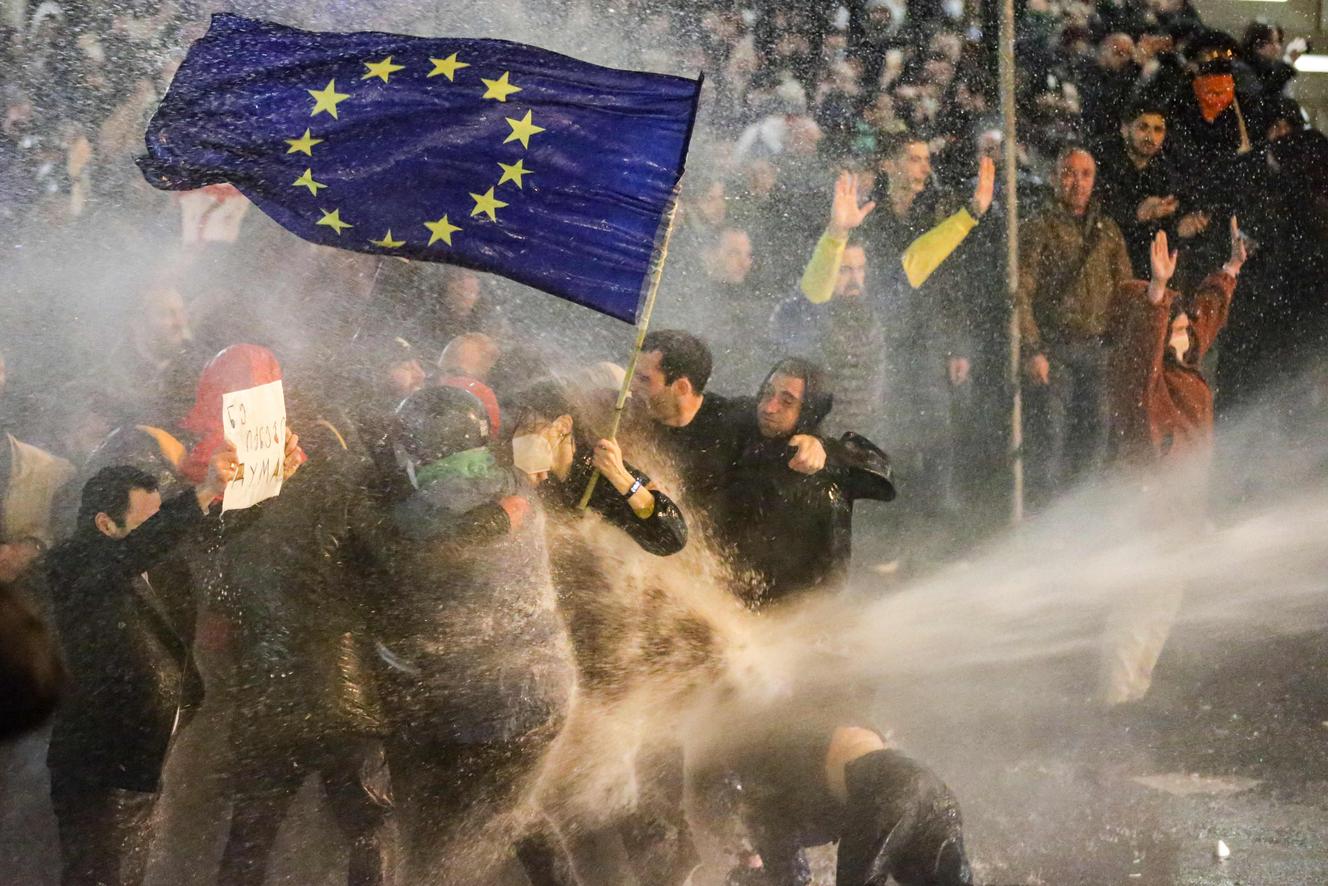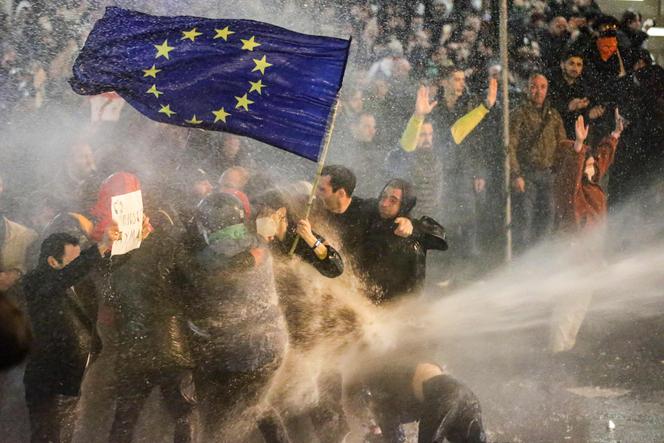 The video sequence lasts a few tens of seconds. A woman is seen waving the European flag in front of a powerful water cannon. She is soaked and wobbly but stands up to the police, quickly joined by other protesters who have come to form a block around her.
On Tuesday, March 7, in Tbilisi, no image better embodied the aspiration of Georgians to join the European Union. But it also came an illustration of their resentment against the government, which had threatened to destroy this European hope by adopting legislation on what it calls "foreign agents."
The bill, modeled on a Russian law designed to silence critical voices, called for any non-governmental organization or media outlet receiving more than 20% of funding from abroad to be stigmatized as a "foreign agent" and fined.
The move by 47-year-old Nana Malachkhia was shared extensively on social media and turned her into a symbol in her country and beyond.
When a European delegation visited Tbilisi on Tuesday, one of its representatives, Lawrence Meredith, said he would "keep this image in mind" rather than the one of the European flag burned in front of the Parliament on the day of the visit by a pro -Russian far-right and ultra-minority group, Alt Info. The event was described as an "isolated incident".
French President Emmanuel Macron also mentioned the video during a Franco-British summit on March 10. "We have seen worrying images in recent days [in Georgia]: A woman carrying the European flag being pushed around, to put it mildly. All this cannot leave us indifferent," he said. Under pressure, the ruling party, Georgian Dream, finally dropped its bill that same day.
This sudden popularity has left Malachkhia feeling uncomfortable. A naturally discreet person, this civil servant at the Tbilisi town hall rejected the label of "heroine" that the Georgian press had given her and preferred to praise the courage of the entire population.
"This is not my victory, but that of all Georgians," she said. "The government crossed a red line because this law was intended to sabotage the country's European perspective."
Read more
Article reserved for our subscribers

'The other front of the Russian offensive is a hybrid war aimed at weakening the EU and democracy'
'All united around the same idea'
We are interested in your experience using the site.
The neat-looking municipal employee, with a scarf tied carefully around her neck, is staying with her sister, Nino, with whom she attended the protest. She remembers the anger she felt when she learned that the government had just adopted the text during a first reading.
"I was furious! They had lied to us again, and on top of that they were trampling the Constitution," she said. The Georgian Constitution calls for all measures to be taken to ensure Georgia's integration into the EU and NATO.
You have 58.13% of this article left to read. The rest is for subscribers only.