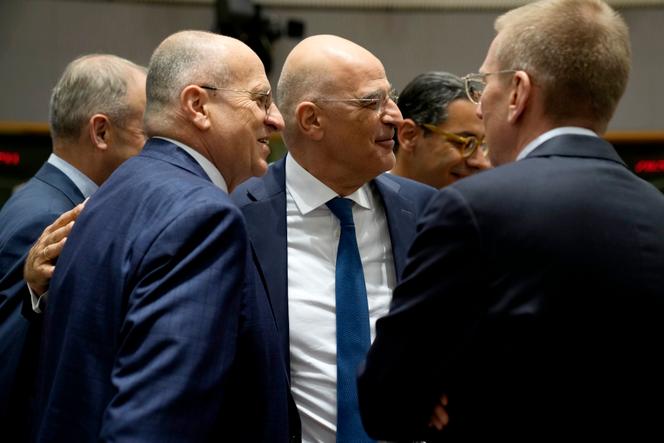 European Union foreign ministers on Monday, May 22, failed to agree on the release of an eighth €500 million tranche for the European Peace Facility aimed at accelerating arms transfers to Ukraine. Nor did they advance on an 11th package of sanctions against Russia, including measures to crack down on the circumvention of sanctions. "It was an intermediate council," said a European diplomat in an euphemism.
Two member states blocked discussions on the two issues. Regarding the Peace Facility, a tool for subsidizing European arms donations to Ukraine, Hungary refused to approve new financing. As for sanctions, Greece opposed EU anti-circumvention measures using the motive they could weaken its shipowners.
The reasons officially given by the two countries have nothing to do with the EU but with Ukraine and the inclusion of OTP, Hungary's biggest bank, and five Greek shipping companieson a "list of international war sponsors" by Ukrainian authorities earlier this month.
Maintained by the Ukrainian national anti-corruption agency, this list includes, as of May 22, some 26 international companies that "continue to cooperate" with Russia "despite international recognition of its status as an aggressor state." With no legal consequences, this list is symbolic and aims to pressure the companies concerned to leave Russia.
Read more
Article reserved for our subscribers

War in Ukraine: Biden's shift brings prospect of F-16s closer despite long road ahead
'Shallow accusation'
The list includes Austria's Raiffeisen Bank, which has kept its Russian subsidiary operating in the country, and France's Leroy-Merlin, Bonduelle, Auchan and Yves Rocher. There has not been any official protest from Vienna or Paris, let alone a veto threat in Brussels. This was pointed out during the meeting by Catherine Colonna, the French foreign affairs minister, to her Hungarian colleague. Meanwhile, according to two diplomats familiar with the discussions, Annalena Baerbock, the German foreign minister, spoke of the role of OTP in supporting Russian soldiers.
According to Ukrainian authorities, OTP paid "190 million rubles [€2.2 million] to the budget of the aggressor state in income tax alone in 2020," and "provides loans at preferential interest to the Russian military." The bank defended itself by ensuring it has only a "0.17% market share in Russia," and it was forced to comply with the orders of the authorities regarding preferential loans to soldiers.
For his part, Peter Szijjarto, Hungaria's foreign minister, described a "scandalous" decision. "The accusations against OTP are false. They are not based on any facts," he said on Monday, adding that "as long as Ukraine does not remove OTP from this list," his country would oppose the release of a new €500 million tranche of European funding to support Kyiv.
You have 39.43% of this article left to read. The rest is for subscribers only.