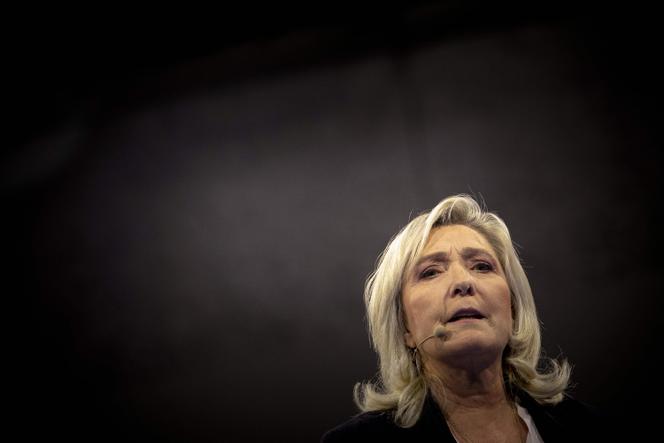 It is a warning: Marine Le Pen has no intention of seeing her presidential ambitions thwarted by her friend Frédéric Chatillon, a former communications subcontractor for the Rassemblement National (RN). Previously, Chatillon was also a leader of the Groupe Union Défense (GUD), a far-right student organization known for its radicalism and violence. When contacted by The world on May 12, the leader of the far-right party distanced herself for the first time from Chatillon, a well-known figure in the revolutionary nationalist milieu – a neo-fascist current that wants to fight, in particular, "American-Zionist imperialism " – and his friend and associate Axel Loustau, also a former GUD member. A long-time friend of Chatillon, Le Pen always acknowledged their loyalty, and until 2017, called directly on their services for the printing of her campaign material, her digital communications and the financial management of her political micro-party.
But Loustau's conspicuous appearance at the May 6 neo-fascist demonstration in the streets of Paris, coupled with Chatillon's public statements applauding the parade of neo-fascist Celtic crosses, was seen by many RN observers as a challenge to the boss, despite the fact that the two quinquagenarians have been long-time regulars at the radical far right's traditional parade. "Being seen at the demonstration was perhaps intentional, and perhaps the consequence of the fact that we have cut all political and professional ties," Le Pen said. "People who are, or were, subcontractors, and who flaunt themselves at demonstrations that carry ideas radically different from those of the Rassemblement National, should expect to face the consequences."
Read more
Article reserved for our subscribers

Le Pen distances herself from ally who marched with neo-fascists
'I think he is on the wrong track'
Is Le Pen, who is convinced she can finally conquer the Elysée Palace in 2027, determined to get rid of her troublemaking companions? The three-time presidential candidate often repeats privately: "[Her father Jean-Marie] Le Pen has always said that the far right screwed up his career," referring to the most radical of his supporters, which she purged from the Front National after she became its leader in 2011.
In an interview with the far-right website Breizh-Info published on Wednesday, May 10, Chatillon, who has been living in Italy for several years, announced in a show of bravado his plans to be present at the May 2024 march. If it is authorized, next year's edition would commemorate the 30th anniversary of the death of Œuvre Française activist Sébastien Deyzieu, who died at a banned demonstration "against American imperialism" in 1994, partially organized by Chatillon's GUD. In the interview, he said: "My old friends are taking part in it – moreover, their presence does not go unnoticed [allusion to Loustau] – and I would like to pay homage to, and congratulate those who are keeping the torch burning. I hope that the 30th anniversary of Sébastien's death will be a major event and I intend to be there, I owe him that much!"
You have 64.75% of this article left to read. The rest is for subscribers only.