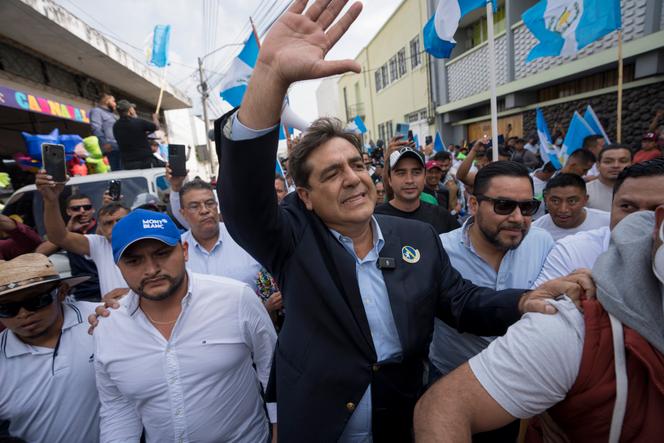 Guatemala's Constitutional Court on Friday, May 26, dismissed a leading opposition politician's bid to be allowed to take part in next month's presidential election. Carlos Pineda, the leading candidate according to a recent opinion poll, recently had his candidacy suspended by Guatemala's Superior Electoral Tribunal (TSE) at the request of a rival party to which he had previously belonged.
He went to the Constitutional Court to have that decision overturned but failed. "Corruption won, Guatemala lost," the 51-year-old rightwing politician wrote on his Twitter account after Friday's ruling.
In total, 22 candidates will contest the election which kicks off with a first round on June 25. If no one takes more than 50 percent of the vote, a second round will take place on August 20. Lagging behind Pineda according to opinion polls are former first lady Sandra Torres, ex-UN official Edmond Mulet, and Zury Rios – the daughter of a former dictator.
The TSE had also invalidated two other serious contenders: Thelma Cabrera from the Mayan Indigenous groups that make up 40 percent of the population, and Roberto Arzu, the son of a former president.
Several corruption scandals
Analysts say democracy in Guatemala has been on the decline since the premature closure in 2019 of the International Commission Against Impunity in Guatemala (CICIG), a UN-backed entity that helped unearth several corruption scandals.
It was shuttered on the orders of former president Jimmy Morales, who was itself in its sights. Under Morales' successor, Alejandro Giammattei, several anti-corruption prosecutors have been arrested, while others have fled into exile.
Giammattei's Attorney General, Maria Consuelo Porras, has been added by the United States to a list of "corrupt actors" for hammering and then firing an anti-mafia prosecutor.
Read more
Article reserved for our subscribers

Guatemala arrests journalist in new authoritarian turn
Others, too, have come under fire. Jose Ruben Zamora, the founder of the El Periodico newspaper that published numerous investigations into corruption cases, finds himself accused of money laundering and blackmail. Imprisoned since July 2022, he faces a sentence of six to 20 years in prison and his newspaper was recently forced to close.