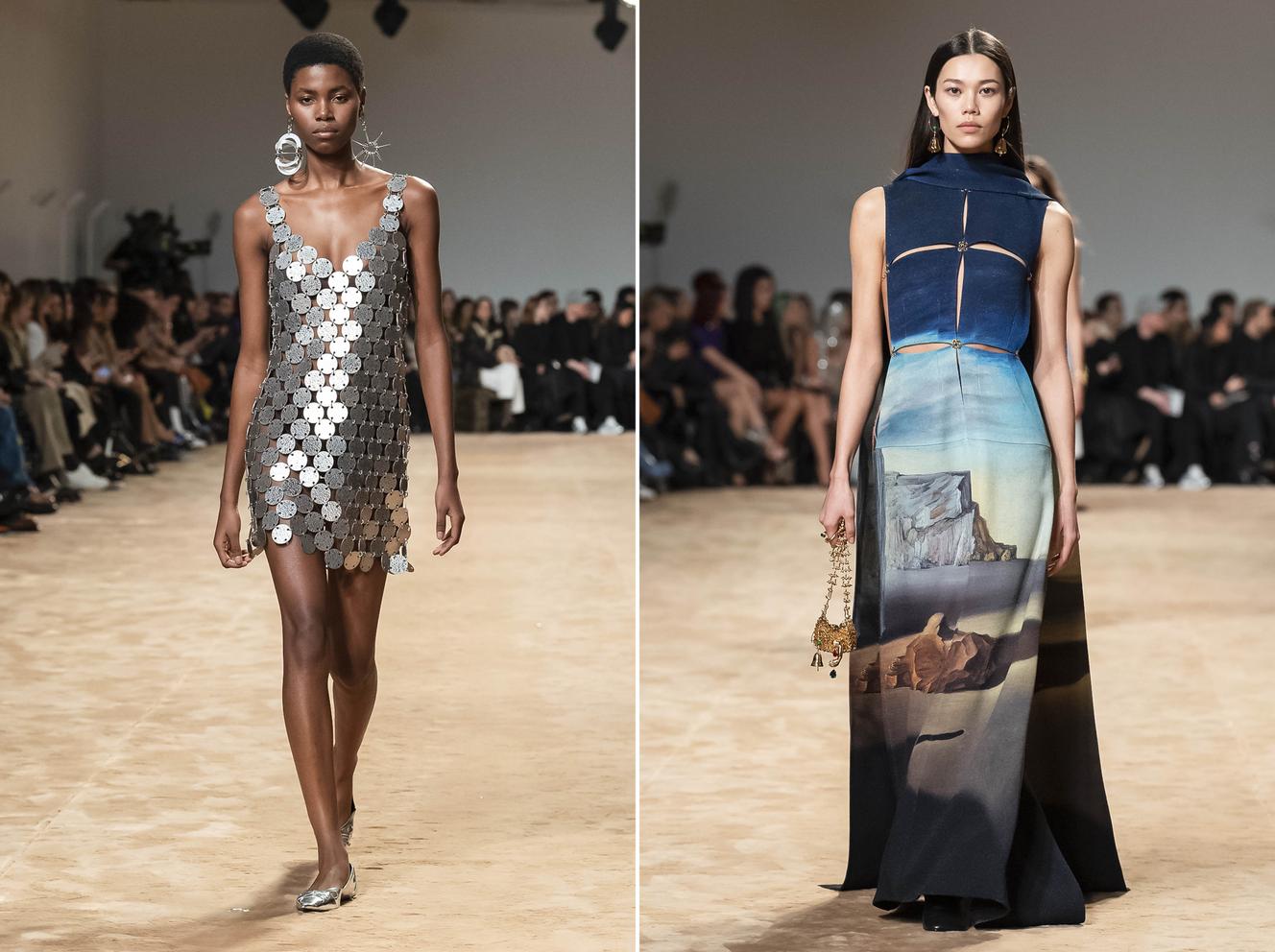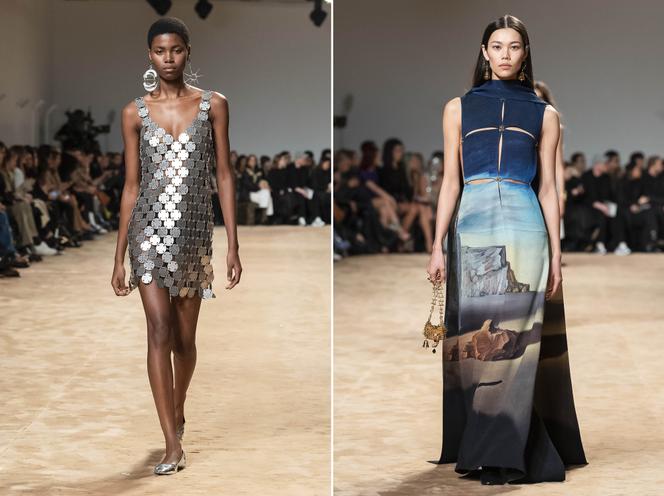 To have one's own brand, or to keep someone else's brand alive? This is the dilemma faced by all fashion designers, who often find themselves torn between a desire for independence and the prestige conferred by a famous, historical and sometimes revolutionary name. For those who choose to create under a label that is not their own, the influence of the founder in their work varies. For this Fall-Winter 2023-2024 women's ready-to-wear season, presented from February 27 to March 7 in Paris, four designers have chosen to distinctly reference the people who laid the foundations of their brands.
Although Paco Rabanne retired from his label in the 2000s and then distanced himself from fashion, his personality and innovative aesthetic left such a mark that he remained very much associated with the house. His death on February 3 paved the way for a tribute, which artistic director Julien Dossena chose to express by showing six metallic dresses from the archives. Since his arrival in 2013, Dossena's work has been in keeping with the spirit of Paco Rabanne "to create a new vision, a new vocabulary through a creative pursuit that must be exceptional." This season, he was inspired by the founder's friendship with the painter Salvador Dali: "They used to give artistic performances together in the mid-1970s, along with Amanda Lear, who would show up in the middle wearing a metallic dress," said Dossena , who contacted the Dali Foundation for permission to reproduce four paintings that he then turned into dresses.
Like Rabanne in his time, he also wrapped the models in "strange materials": coats made of long camel hair, dresses with pieces of silverware, shiny satin, overlays of mesh and transparent veils creating "surrealistic, draped" fabrics arranged around reissued Dali jewelry. "I want to make a truly radical statement, one which elevates women and makes them powerful, as did Paco Rabanne," said the artistic director. At the end of the fashion show, the Spaniard's voice resonated in Paris' Museum of Modern Art: "Women have become warriors, so I dress them in armor to grant their independence from men. It's a reflection of our times." "Thank you, Mr. Rabanne. You were one of those people who altered our worldview," Dossena wrote on a small card placed on the seat of each guest.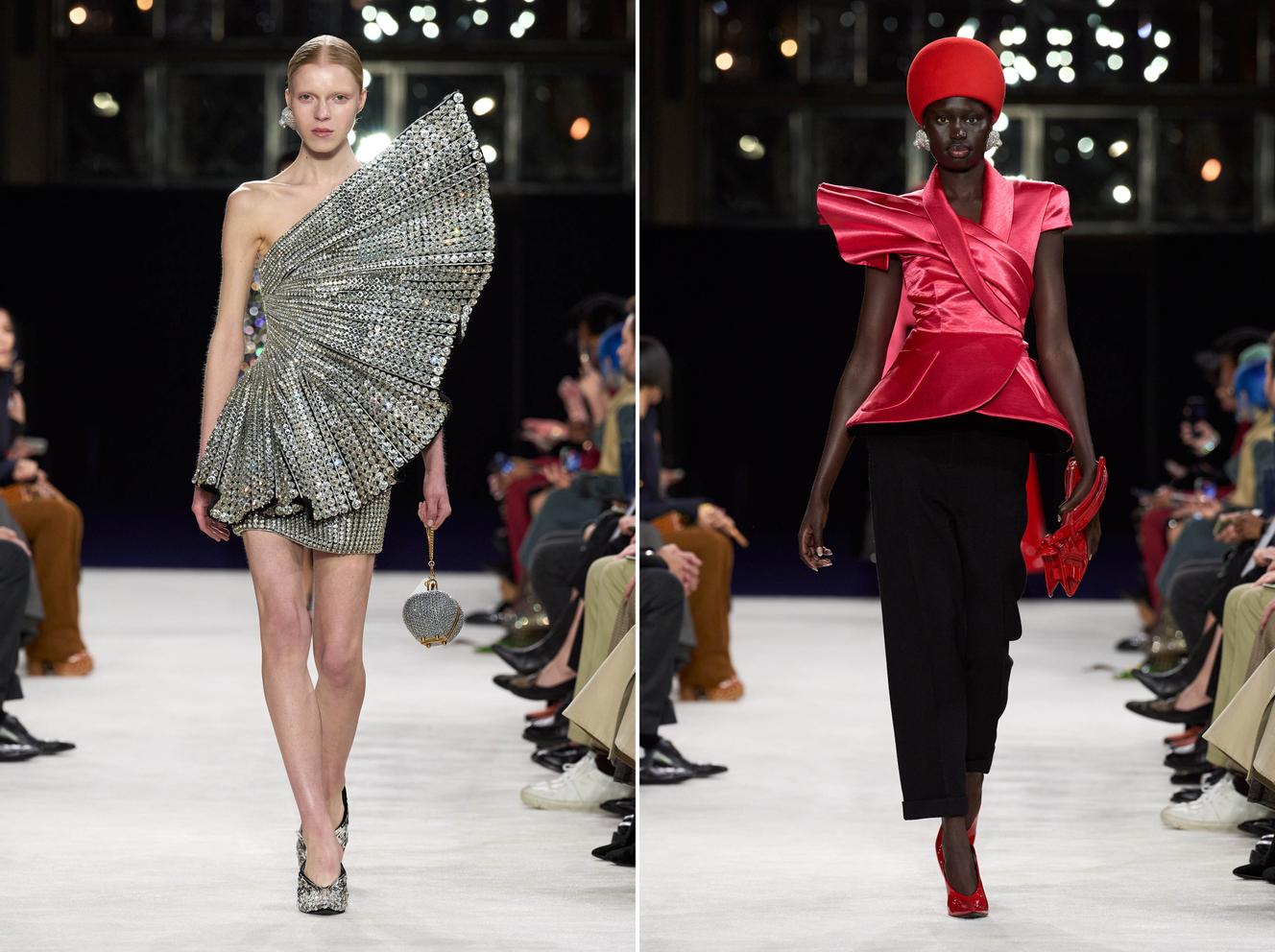 Another voice from beyond the grave, that of Pierre Balmain, resonated during the brand's fashion show. The man who founded the label in 1945 could be heard evoking "the atmosphere of the immediate post-war period" and his meeting with Cecil Beaton. These were interview excerpts that Olivier Rousteing, Balmain's artistic director since 2011, had listened to attentively to plan an homage that was executed flawlessly, with handcrafted, undeniably clean contours. In contrast to the great fanfare of previous seasons, where fashion shows turned festivals would see more than 8,000 people crowded onto bleachers, he put together an intimate show, limited to 200 guests, who sat cross-legged on soft sofas. "I wanted to remind people that while I am witness to a present awash in pop culture, I am also fascinated by the history of the house. And, by doing so, also emphasize that I am not just an Instagram account," Rousteing said .
Rigorous jackets in black velvet, or with a cinched waist and raised satin bows, corolla skirts studded with crystals, velvet suits with polka dots, evening minidresses shaped like fans, or knitwear ensembles with pearls were paired with mules with bows and glittery pumps. Some of Rousteing's gimmicks notwithstanding (a taste for "flared trousers" or excessively long sleeves), everything unfolded in the same spirit of couture that made the 1950s the beautiful days of Paris' "golden triangle" To bolster allusions to the founder, some of his hats have been reproduced by Stephen Jones Millinery, a major name in the field, while his 1970 Labyrinth monogram has been revived on trunks, bags and even a toolbox.
Frayed skirts over strappy pants
At Givenchy, the spirit of the founder is back. American artistic director Matthew M. Williams, who has long sought his place in this house with a somewhat muddled lineage, was torn between the elegance of an Audrey Hepburn in a pearl necklace and little black dress, the gothic streetwear fashioned by former designer Riccardo Tisci … and his own culture as a thirty-something Californian steeped in the world of hip-hop. Having wavered since his appointment in 2020, the American seems to have finally made up his mind, and it's working for him: On a large white runway set up at the Ecole Militaire, he drew on Hubert de Givenchy's archives from the 1970s and 1980s, and has retained the founder's taste for elegance, black and white, and majestic draping.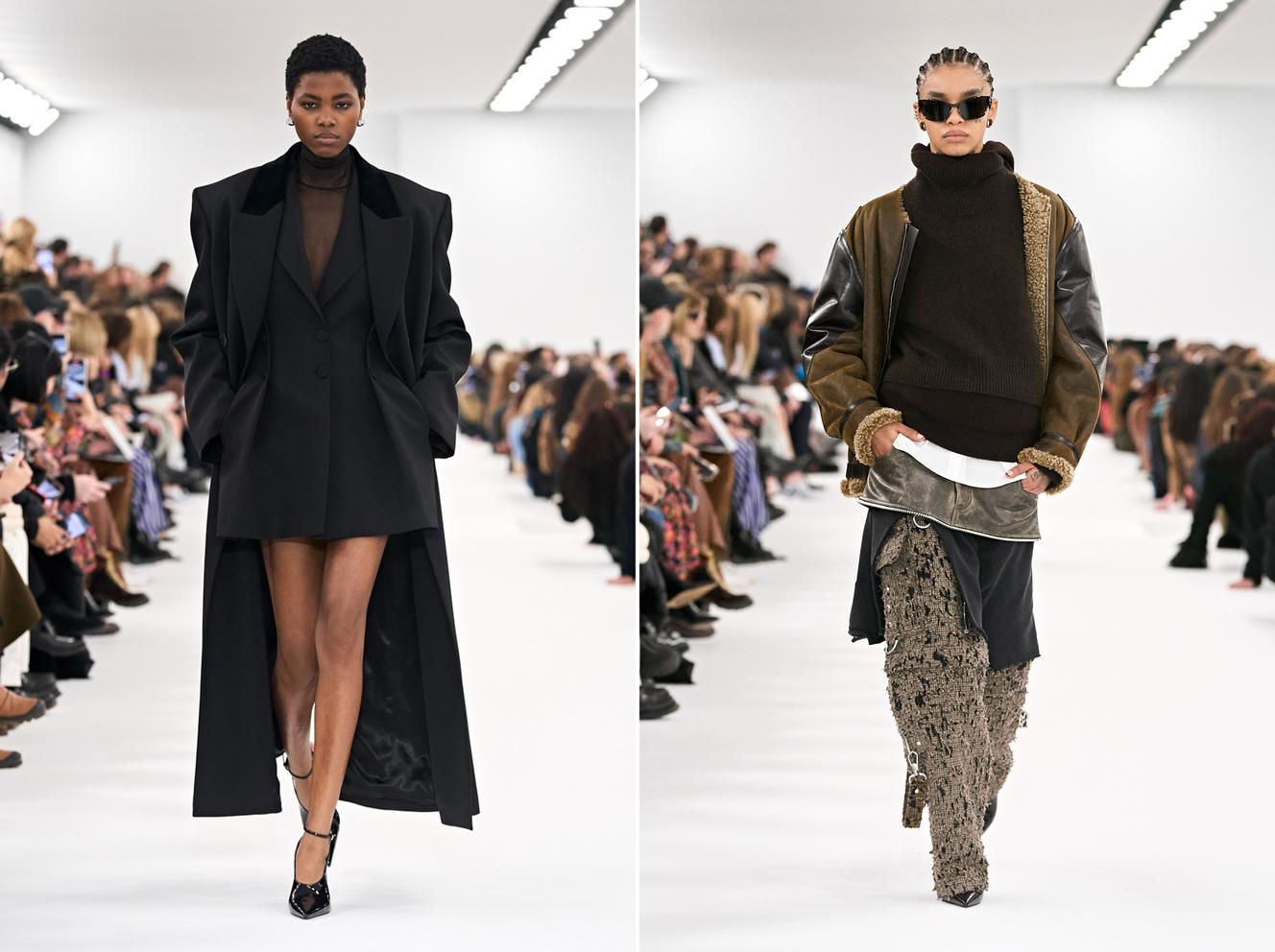 The collection is rich in tailored jackets twisted by a unique draping (a button offset on the hip, creating swirls of fabric), satin coats with pronounced shoulders crafted by the haute couture workshops, and long black dresses with slits. William also used prints from the 70s and 80s that he has rendered in his own way: A floral pattern printed on metal dresses, enhanced by black satin bows; gray fish adorning a small white dress with an asymmetrical collar, from which trails a long, transparent black veil floating behind the model. Here and there, he added a Californian touch, with "baggy" silhouettes where he superimposed a frayed skirt on strappy pants, shirts over shirts underneath a sweater under a coat… "Matthew, you're a genius!" commented his compatriot Jared Leto, invited to the fashion show, about the collection − which should be able to find its audience.
For its part, the haute couture house Schiaparelli held its first ready-to-wear show, a sign of its renewed vitality. No one could have imagined such a scenario even five years ago, as the label had seemed so outdated and directionless. The arrival of Texan Daniel Roseberry as artistic director in 2019 changed everything. By dint of well-conceived and well-cut dresses, with just the right amount of extravagance and drama, he managed to seduce the stars of red carpets and pop culture. "Couture is my megaphone that generates buzz. Ready-to-wear is not meant to break the internet: It's about dressing women in everyday life," said the designer. He has designed a compact but comprehensive collection, from white shirts to cocktail dresses, with which he hopes to fill a gap in the luxury market: Clothing of excellent quality, but not classic.
We are interested in your experience using the site.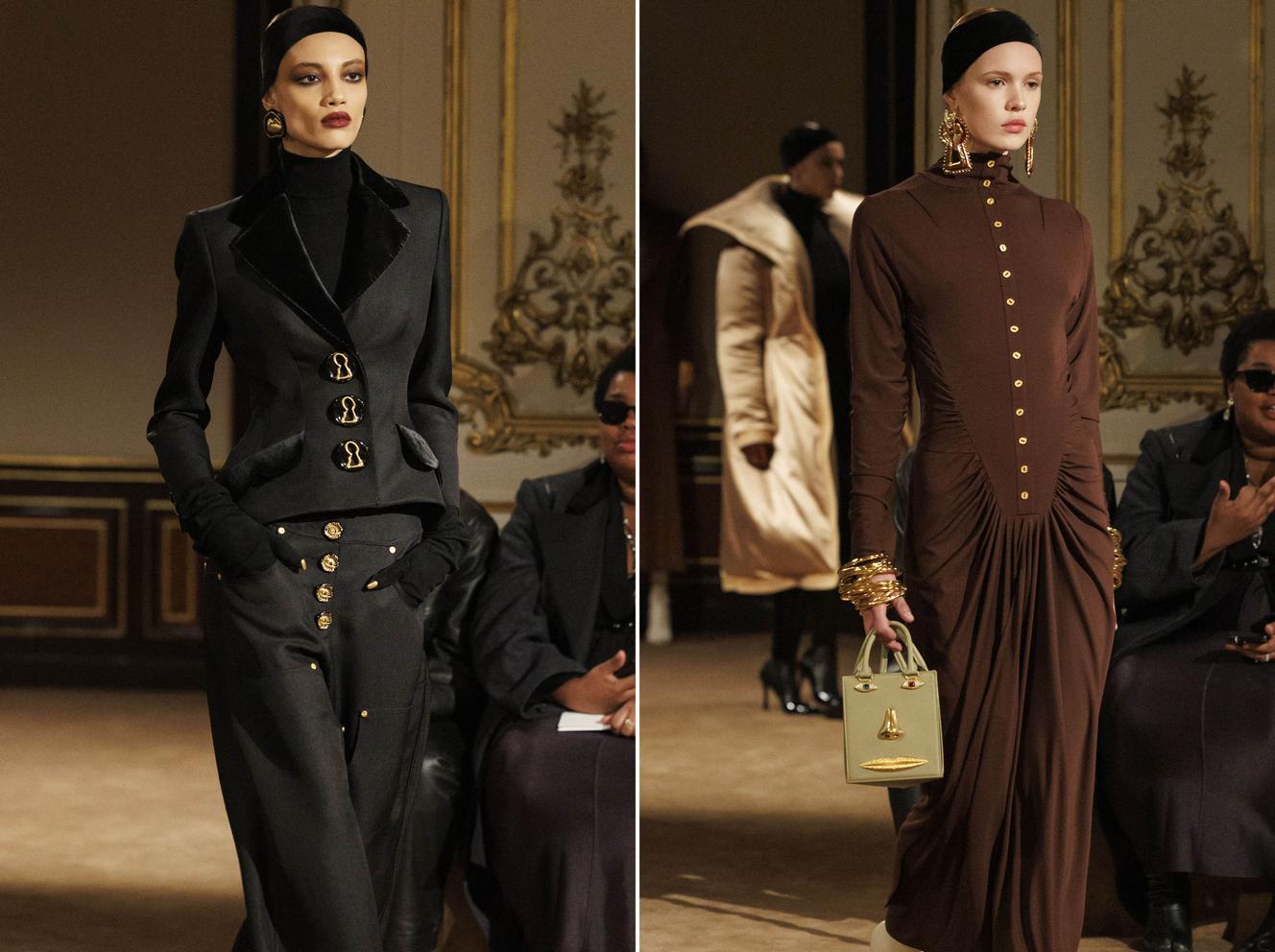 "In today's offering, the more expensive a product is, the less creative it is," Roseberry said. "We're going to maintain Elsa Schiaparelli's whimsy and sense of humor in clothes and accessories that are as precise as couture." His ready-to-wear collection faithfully reflects the spirit of haute couture: The cuts and volumes of the suits, coats and pants fall perfectly, drawing striking silhouettes, mostly in black. The "Schiap" signature (as Roseberry calls it) is found in the disconcerting shapes (a strapless dress with pointed edges, sleeves inflated like a balloon), surprising materials (a shaggy breastplate of goat hair), and gold jewelry buttons in the shape of an ear, padlock or nipple. "I want to honor the codes of the house without reducing them to a logo," said Roseberry. He has fully succeeded in doing so. It remains to be seen whether this ultra-luxurious ready-to-wear will appeal beyond the circle of couture clients.