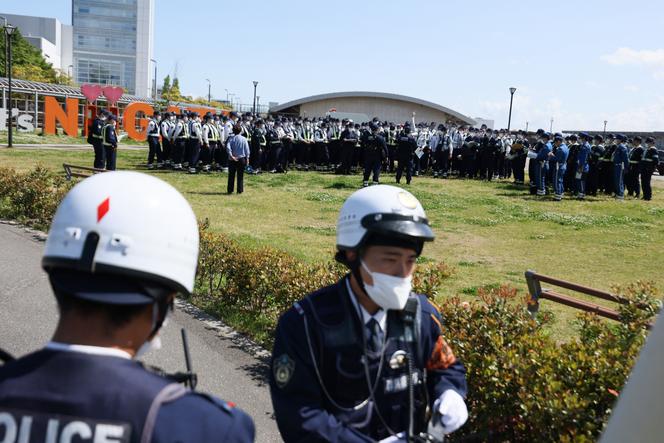 Hiroshima and Tokyo are in an anxious state. An increased number of police officers, including anti-terrorist brigade units, are patrolling airports and railway stations. The G7, which is to open on Friday, May, 19, will take place in a particular climate.
Within a few months, two prominent politicians were victims of assault: In July 2022, former prime minister Shinzo Abe was assassinated in the street, and in April of this year, the sitting head of government, Fumio Kishida, narrowly escaped an attack.
The police are keeping an eye on people deemed to be suspected of extremism, but they are faced with the reality that the perpetrators of these two attacks are ordinary men who do not belong to any radical group and whose motives are not ideological. It fears that these attacks, which in some cases have sparked expressions of solidarity on the internet, will encourage other lone "disgruntled" individuals to take action. The attacks on Shinzo Abe and Fumio Kishida are, in fact, a symptom of a social pathology that could become worrisome in a country with a justified reputation as one of the safest in the world.
Read more
Article reserved for our subscribers

Shinzo Abe, former prime minister and 'kingmaker'
Before the Second World War, there were certainly political attacks in Japan, but since the conflict ended, they have been rare. In 1960, Inejiro Asanuma, the chairman of the Socialist Party, was stabbed by a right-wing extremist in front of television cameras. Thirty years later, the mayor of Nagasaki, Hitoshi Motoshima, narrowly escaped an attack, also by a right-wing extremist.
social malaise
Like other countries, Japan is experiencing indiscriminate murders committed by individuals seized by an urge to kill: In 2008, in Akihabara, a district of Tokyo famous for its electronics stores and manga bookstores, a 25-year-old man killed seven people and wounded 10 others with knives in an act of revenge against "happy people." In 2016, a 26-year-old former employee of a center for the mentally disabled in Sagamihara (Kanagawa Prefecture) killed 19 people and injured 25 others. "Society is better off without the mentally handicapped," he said at his trial.
The perpetrators of the attacks on Abe and Kishida were both motivated by resentment. Tetsuya Yamagami, 42, wanted revenge on Abe, whom he considered to be close to the Moon cult, which had ruined his family and his life. Kishida's assailant, 24-year-old Ryuji Kimura was dissatisfied with the electoral system, the age of eligibility and "dynastic" successions in constituencies that had become family electoral strongholds. In 2022, he filed a complaint against the government asking that the age of eligibility be lowered but it was rejected.
You have 56.88% of this article left to read. The rest is for subscribers only.