LETTER FROM WASHINGTON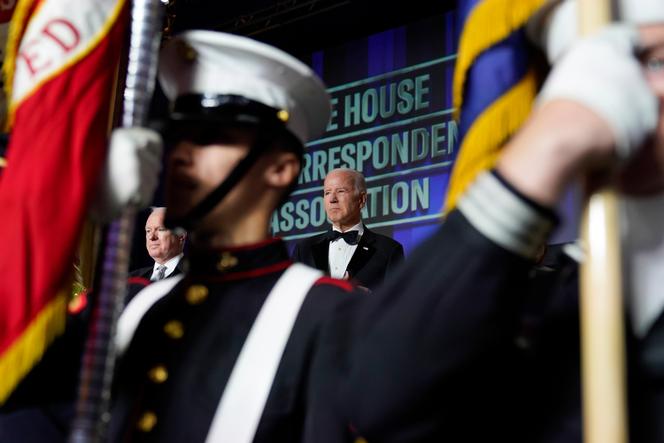 "I'll be holding a major press conference this afternoon." At these words uttered by Joe Biden on May 5, at the White House ahead of a working meeting, journalists accredited to cover the United States president were taken aback. There was nothing on the official agenda. The stupefaction was all the greater because he had not engaged in such an exercise since the beginning of the year. But Biden's tongue had slipped. He meant to talk about a 13-minute interview with MSNBC that would be broadcast that evening. The short format hosted by a friendly channel allowed him to complain again about the treatment of news on television. "Everything is negative," Biden said.
On April 29, at the White House Correspondents' Dinner in Washington, Biden paid a fitting tribute to the press, a "pillar" of democracy. His speech, honed by his advisers, also contained a telling joke. "In a lot of ways, this dinner sums up my first two years in office: I'll talk for 10 minutes, take zero questions and cheerfully walk away." It was met with tense laughter.
Unlike former President Donald Trump, Biden has never considered journalists "enemies of the people." He has not singled them out for public condemnation either. But he avoids them. His advisers have elaborated this strategy to protect the 80-year-old leader known for his embarrassing gaffes. But that is not the way to dispel questions about the physical and mental health of the Democratic candidate in the run-up to the 2024 election.
On May 9, much to everyone's surprise, Biden agreed to answer questions after reading a statement about budget negotiations with Republicans in a weary, hoarse voice. But the bunker mentality still prevails. The daily White House press briefings are exceptionally boring, despite frequent visits by National Security Council spokesman John Kirby to provide substance on security and foreign policy issues.
It is Jake Sullivan, the national security advisor, who defines the ideological coherence of the administration during extensive but unchallenged appearances before think tanks, such as the Brookings Institution on April 27. On the other hand, Biden has still not given a substantial interview to mainstream American newspapers. He has preferred major television networks such as ABC and CBS.
Read more
Article reserved for our subscribers

Joe Biden, 80, launches 2024 run, hoping to dispel questions on age
'A la carte'
The White House defends itself by emphasizing the interactions during presidential trips. Biden then answers in a few words to questions thrown in the air, in the roar of the plane's engines or between two doors.
You have 61.69% of this article left to read. The rest is for subscribers only.