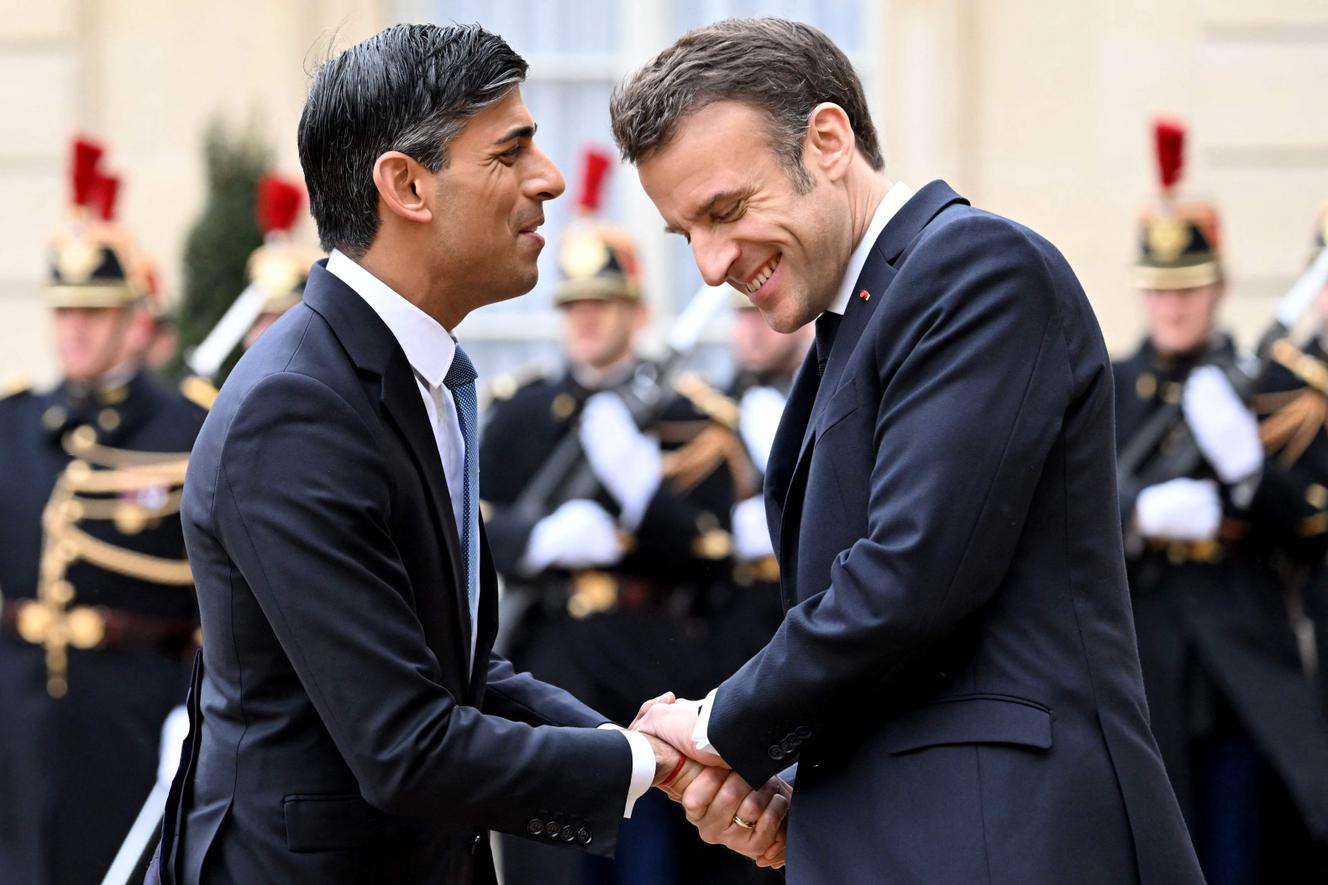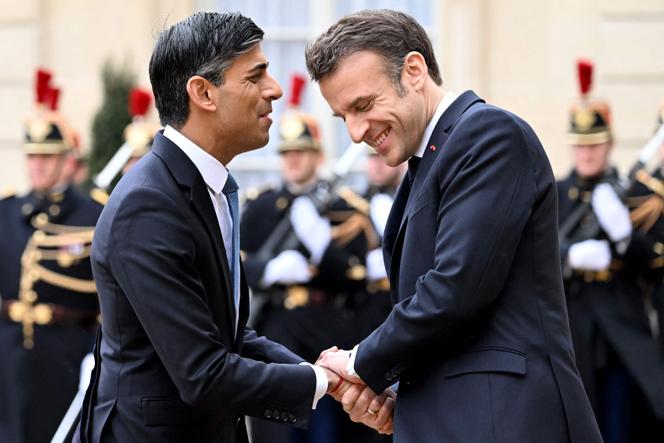 Prime Minister Rishi Sunak on Friday, March 10, met French President Emmanuel Macron in Paris for a bridge-building summit, aimed at overcoming years of Brexit tensions and agreeing on a new pact on cross-Channel migration.
Sunak hailed as "essential" the relationship between the two neighbors ahead of talks, where the pair were also expected to vow more support for Ukraine and security in the Asia-Pacific region, Downing Street said.
Read more
UK ready to 'push boundaries of international law' with new bill to stop Channel migrants
Macron welcomed Sunak at the Elysee Palace after the first traveled to Paris by train from London. A press conference was expected in the afternoon. It is the first UK-French summit in five years, after Sunak became prime minister in October, following the stormy tenures of Liz Truss and Boris Johnson.
Macron's antipathy to the Brexit figurehead Johnson was barely concealed, while Truss said she didn't know whether the French leader was a "friend or foe" during his campaign to become prime minister. But both sides now see an opportunity to reset the "Entente Cordiale" between Western Europe's two nuclear powers.
'Scourge of illegal migration'
"Our deep history, our proximity and our shared global outlook mean that a firm partnership between the UK and France is not just valuable, it is essential," Sunak said in a statement late Thursday.
He confirmed that the European Political Community – a Macron initiative formed after Russia invaded Ukraine a year ago – will be hosted by Britain following an October summit in Spain. Britain and France are working jointly to determine "the scoop of illegal migration," Sunak also said.
Read more
Sunak holds first meeting with Macron, seeking migrant co-operation
Sunak is under fierce pressure to thwart thousands of asylum seekers crossing the Channel, and this week unveiled legislation that critics said would make Britain an international outlaw on refugee rights. Britain has been paying France to help patrol the Channel border, and a summit pact will focus on "increasing the resources deployed to manage this common border, with multi-year financing," an aide to Macron said.
Tea Times newspaper reported that the deal would be for around £200 million (€225 million, $240 million), spread out over three years.
Bromance?
Although Britain's exit from the European Union still bedevils ties, recent developments, including an agreement to settle the EU trading status of Northern Ireland, have created goodwill.
The two neighbors have also found a common cause in supporting Ukraine against Russia. Sunak and Macron will agree to "further coordinate both the supply of weapons to Ukraine and the training of Ukrainian marines," the Downing Street statement said.
Newsletter
THE WORLD IN FRENCH
Every morning, a selection of articles from The World In French straight to your inbox
Sign-up
As well as Ukrainian soldiers and marines, Britain has undertaken to train Ukrainian pilots – although Western allies are wary of offering fighter jets to Kyiv. "Bolstering these efforts through further joint UK and French training could see thousands more Ukrainians brought to battlefield readiness," the statement said.
Read more
Article reserved for our subscribers

In London and Paris, Zelensky urges European allies to provide aircraft to Ukraine
The leaders will further look at ensuring a "permanent presence of like-minded European partners" in the Asia-Pacific, "whose security is indivisible from that of Europe," it said. That includes coordinating the deployment of France's Charles de Gaulle aircraft carrier with the Royal Navy's brand-new carriers – HMS Queen Elizabeth and HMS Prince of Wales.
'New energy'
As part of the Sunak government's post-Brexit outreach, the summit paves the way for King Charles III to make France his first foreign destination when he heads there on a state visit at the end of March.
We are interested in your experience using the site.
Read more
Article reserved for our subscribers

UK and EU hope for more peaceful relationship following Northern Ireland deal
While Johnson revealed in French-bashing, Sunak says he and Macron are "friends," with their warm embrace during their first encounter in November sparking light-hearted speculation about a "bromance." They are similar ages, 45 and 42, and are former investment bankers. Both were schooled privately, grew up in provincial towns, and have fathers with medical backgrounds.