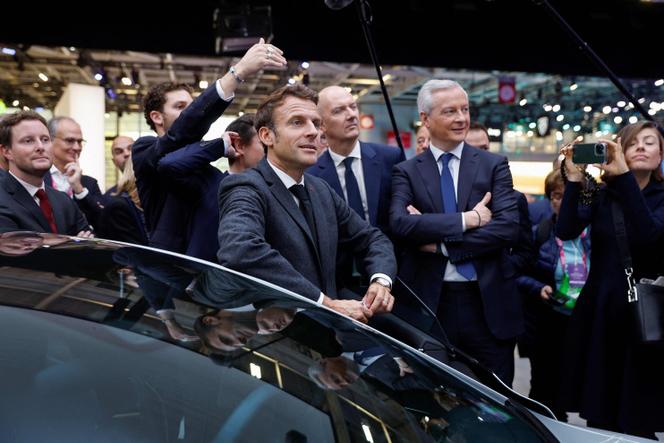 Can a supply-side policy alone serve as a guiding point for a second term accused of having no direction? Faced with attacks from the far right, which has openly questioned his economic competence since the downgrading of the French debt by the rating agency Fitch on April 28, French President Emmanuel Macron intends to hammer home a counter-narrative. It will focus on the vigorousness of the French economy, its reindustrialization and its attractiveness on the international scene, despite a tense public finance situation and a social climate that is still dominated by his pension reform and French citizens' concerns about the effects of inflation.
Read more
Article reserved for our subscribers

France: 'The debt burden issue was buried, and it feels almost impossible to bring it back into public debate'
In a gathering of 150 business leaders and lawmakers to be held in the Elysée Palace's Salle des Fêtes on Thursday, May 11, Macron will once again defend the effectiveness of the supply-side policy that has been pursued over the past six years, and which has resulted in around €30 billion in tax cuts for businesses since 2017. He sees it as the beginning of a movement to reindustrialize the country. Then, on Friday, he will announce new "massive" foreign investments during a trip to Dunkirk where he could confirm the establishment of a new car battery factory – a sign that the country remains attractive despite the pension reform, which has damaged its image on the international stage.
This period of announcements will end on Monday, with the Choose France summit in Versailles, where some 200 foreign leaders have been invited to the sixth edition of the event which aims to promote foreign investments in France. Overall, these announcements should allow him to return to a territory that is usually more stable for him – the economy.
Despite France's good performance in this area – with unemployment down to 7%, GDP growth higher than Germany's in 2022, at 2.6%, tax revenues climbing despite tax cuts, and inflation lower than the rest of Europe – the economic success story is struggling to break through in a country still scarred by the pension reform and concerned with issues related to purchasing power.
Staying the course toward supply-side policy
But the French government has not given up on showing that "our economic policy works," insists the Elysée Palace, taking pride in having stayed the course towards a supply-side policy since 2017. This policy is seen as a beginning of reindustrialization in the country, "especially in the North, where the campaigns of the left and the Rassemblement National Rally (RN, far right) are based on impoverishment and the feeling of abandonment. Macron will visit this very area on Friday.
You have 54.55% of this article left to read. The rest is for subscribers only.