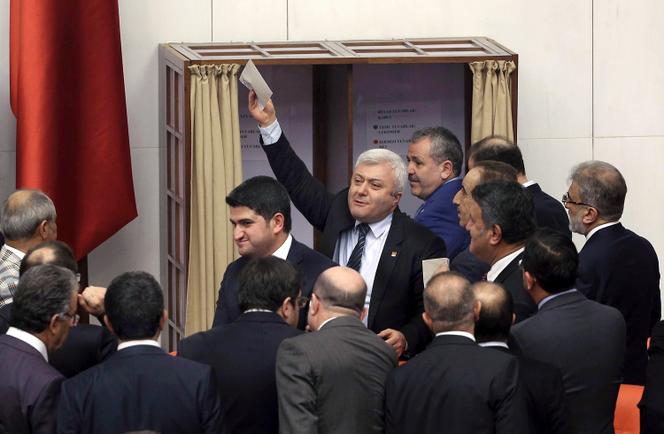 In a video aired on May 19, on Yurttaş television, Tuncay Özkan, looking like a police inspector in front of a board with photos of suspects, with a white shirt and bags under his eyes, tries to elucidate a crime of which he is allegedly a victim. Since the first round of the Turkish presidential election on May 14, journalists and voters have been accusing the Izmir member of Parliament and vice president in charge of media relations for the Republican People's Party (CHP) of orchestrating his own side's defeat and of being nothing less than a double agent.
On a white wall, Özkan pasted screenshots of videos, tweets and portraits of his detractors: A former police officer who calls him an "agent of the palace" and journalists close to the opposition.
Özkan condemned manipulations aimed at weakening the CHP just days before the May 28 run-off that will oppose Kemal Kılıçdaroğlu and Recep Tayyip Erdogan, the outgoing president. The case mixes terrorist networks, secret organizations and conspiracy theories – in essence, all the ingredients of Turkish politics that Erdogan constantly refers to when explaining pseudo-machinations against him.
Read more
Article reserved for our subscribers

Turkey elections: The across-the-board triumph of nationalists
'Shady guy'
To understand this unlikely scenario, it is necessary to go back to the election evening of May 14, which raised questions among many observers. At around 7:00 pm, the Anadolu news agency, an organ of the ruling party, announced a substantial lead for Erdogan and his Justice and Development Party (AKP). "Ignore Anadolu's figures. The agency is falsifying reality. It's no longer credible," said Istanbul Mayor Ekrem Imamoglu.
According to the CHP's election monitoring system and the Anka news agency, close to the opposition, Kilicdaroglu was leading. The candidate asserted that, due to challenges by his opponents in some polling stations, 8 million votes in his favor were awaiting registration in Turkey's High Electoral Council. At one point, the subject of these votes awaiting validation disappeared from the discussion. After announcing Kılıçdaroğlu in the lead with 47% of the vote, ahead of Erdoğan, the Anka agency stopped updating the data for an hour. It ended up reporting the same results as Anadolu.
To explain this about-face, Özkan appeared to be the ideal person, not least because of his notorious connections with a former intelligence director. "He's a shady guy with very close ties to the intelligence services and part of the administration," said Cengiz Aktar, a professor of political science at the University of Athens.
You have 50.79% of this article left to read. The rest is for subscribers only.