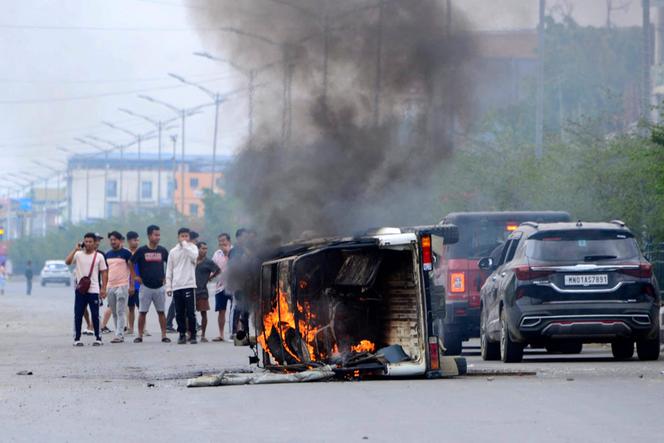 As is often the case in India, the violence erupted suddenly and spread like wildfire. The small state of Manipur in the northeast of the country, which borders Myanmar and has a population of 3.5 million, has been in the grip of deadly inter-ethnic clashes since Wednesday, May 3. According to local government reports, 60 people have died , 1,700 houses have been burned, as well as temples, churches and vehicles set ablaze, and more than 35,000 people have been evacuated and moved to relief camps. Thousands of soldiers have been deployed, with orders to shoot on sight if necessary, and a curfew declared. The internet has been suspended.
The conflict is between the Meiteis, the dominant ethnic group representing 53% of Manipur's population, who are largely Hindu and live in the fertile Imphal valley in the center of the state, and the Kukis, the Chin hill tribes, who are mainly Christian. For years, the Meiteis have been demanding inclusion on the official list of scheduled tribes. This designation, given to the two main tribes of Manipur, the Nagas and the Kukis, about 40% of the population, is reserved for ethnic groups that are considered disadvantaged and isolated. It makes them eligible for reserved quotas in government jobs and public university places. The economic stakes are high, as the northeastern states of India are lagging behind in development, and government jobs are the main source of employment.
Read more
Article reserved for our subscribers

On the trail of India's last Maoist rebels
On March 27, the Manipur High Court ruled that the Meiteis were justified in their demand, and gave the Manipur government four weeks in which to send its recommendations to the central government. This ruling has angered indigenous communities. On May 3, a students' union led a "tribal solidarity march" throughout the hill districts. The town of Churachandpur, a predominantly Kuki territory, was the first to erupt, with violence spreading to other towns. Tribes fear that the Meiteis will take their jobs and may also acquire ancestral forest land in the hills and mountains by being granted scheduled tribe status.
Calm restored
After four days of riots, the situation seemed to be under control on Monday, May 8. "Calm has been restored, but we are still under curfew and have no internet. Only bits of information are getting though to us," reported Rakesh Banta, a businessman, now living in the capital Imphol, speaking with The world by phone. "But there are lots of soldiers on the streets." Minister of Home Affairs Amit Shah tried to calm the situation by assuring that the court order will be "discussed with all concerned stakeholders and the Manipur government will take an appropriate decision after consultation. "No person or group should be afraid," he said on IndiaToday.
You have 38.02% of this article left to read. The rest is for subscribers only.