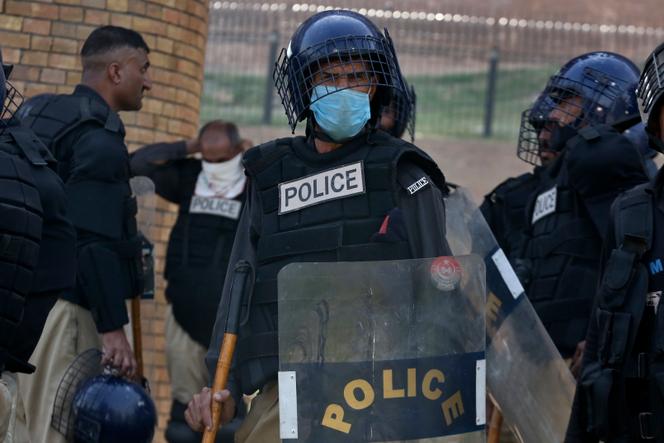 Pakistan's Supreme Court on Thursday, May 11, declared the arrest of former prime minister Imran Khan "invalid" after his detention two days ago sparked violent protests across the country. Khan was arrested on Tuesday on corruption charges and remanded in custody in a culmination of months of political crisis during which he has waged a campaign of defiance against Pakistan's military establishment.
But on Thursday Pakistan's top judge ordered police to bring Khan before the Supreme Court in response to a petition by his political party challenging the arrest. "Your arrest was invalid so the whole process needs to be backtracked," Chief Justice Umar Ata Bandial told Khan at the hearing in the capital Islamabad. Khan told the court he had been "treated like a terrorist."
Security forces patrolled streets across Pakistan on Thursday and detained supporters of Khan. Several thousand enraged supporters of his Pakistan Tehreek-e-Insaf (PTI) party have for two days rampaged through cities around the country, setting fire to buildings and blocking roads.
At least 10 people have died since Tuesday, police and hospitals said. Hundreds of police officers have been injured and more than 2,000 people arrested, mostly in Punjab and Khyber Pakhtunkhwa provinces, police added. At least eight officials from PTI's central leadership accused of orchestrating the protests were also detained, Islamabad police said.
Security forces have responded with tear gas and water cannon to quell the crowds and on Thursday came equipped with batons and riot shields.
Read more
Article reserved for our subscribers

Pakistan on verge of chaos following former PM Khan's arrest
'To civil war'
The former cricket superstar, who remains wildly popular, was ousted in April 2022 in a no-confidence vote in parliament after he lost the support of Pakistan's powerful military. Khan has said the dozens of legal cases brought against him following his ousting are part of an effort by the government and the army to prevent him from returning to power ahead of elections due in the autumn.
The military earlier issued a strongly worded statement saying it was exercising "extreme restraint." He warned of a "severe reaction" to any further attacks on state and military facilities, and said responsibility will lie with "a group that wants to push Pakistan into civil war." Khan's party dismissed the statement as "contrary to facts and the situation on the ground."
The United Nations High Commissioner for Human Rights Volker Turk also urged Pakistan security forces to show "restraint" and said "protesters should refrain from violence." "Freedom of expression, peaceful assembly and rule of law are key to resolving political conflicts – with no place for disproportionate force," Turk tweeted on Thursday.