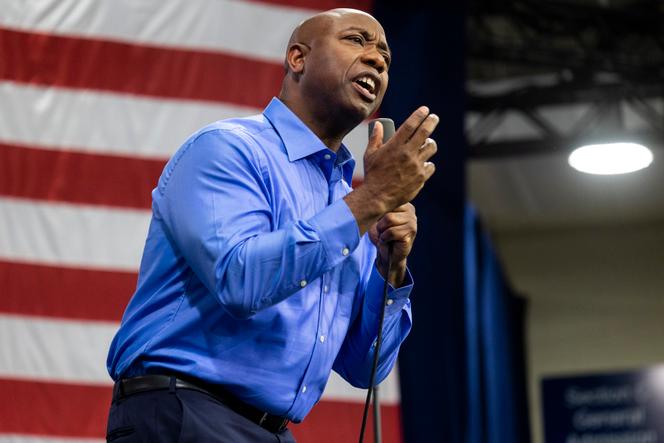 South Carolina Senator Tim Scott launched his presidential campaign on Monday, May 22, entering the Republican primary field as an outsider, in competition with former president Donald Trump and, in all likelihood, Florida Governor Ron DeSantis. The US Senate's only Black Republican, Scott kicked off the campaign in his hometown of North Charleston, on the campus of Charleston Southern University, his alma mater.
Scott also offered a stark political choice, saying "our party and our nation are standing at a time for choosing: Victimhood or victory?" and adding that Republicans will also have to decide between "Grievance or greatness." "I choose freedom and hope and opportunity," Scott said. "We need a president who persuades not just our friends and our base" but seeks "commonsense" solutions and displays "compassion for people who don't agree with us." Scott, 57, planned to huddle with home-state donors then begin a two-day campaign swing to Iowa and New Hampshire, which go first in GOP presidential primary voting.
Like other outsiders in the GOP race, including former Arkansas Governor Asa Hutchinson and Woke, Inc.. author Vivek Ramaswamy, Scott's initial task will be finding a way to stand out in a field led by Trump and DeSantis, the latter of whom could announce his own bid as early as this week. Trump struck a conciliatory tone, welcoming Scott to the race in an online post Monday and noting that the pair worked together on his administration's signature tax cuts.
$22 million in the bank
A source of strength for Scott will be his campaign bank account. He enters the 2024 race with more cash on hand than any other presidential candidate in US history, with $22 million left in his campaign account at the end of his 2022 campaign that he can transfer to his presidential coffers.
Scott also won reelection in firm Republican South Carolina – which has an early slot on the Republican presidential primary calendar – by more than 20 points less than six months ago. But Scott is not the only South Carolina option. The state's former governor, Nikki Haley, who also once served as Trump's former United Nations ambassador, is also running.
Read more
Article reserved for our subscribers

US presidential election: Republican Nikki Haley becomes first to take on Donald Trump
On many issues, Scott aligns with mainstream GOP positions. He wants to reduce government spending and restrict abortion, saying he would sign a federal law to prohibit abortions after 15 weeks of pregnancy if elected president.
But Scott has pushed the party on some policing overhaul measures since the killing of George Floyd, and he has occasionally criticized Trump's response to racial tensions. Throughout their disagreements, though, Scott has maintained a generally cordial relationship with Trump, saying in his book that the former president "listened intently" to his viewpoints on race-related issues.
Scott has long rejected the notion that the country is inherently racist. He's also routinely repudiated the teaching of critical race theory, an academic framework that presents the idea that the nation's institutions maintain the dominance of white people. "Today, I'm living proof that America is the land of opportunity and not a land of oppression," he said Monday.
Read more
Who is Julie Chavez Rodriguez, Joe Biden's campaign manager?