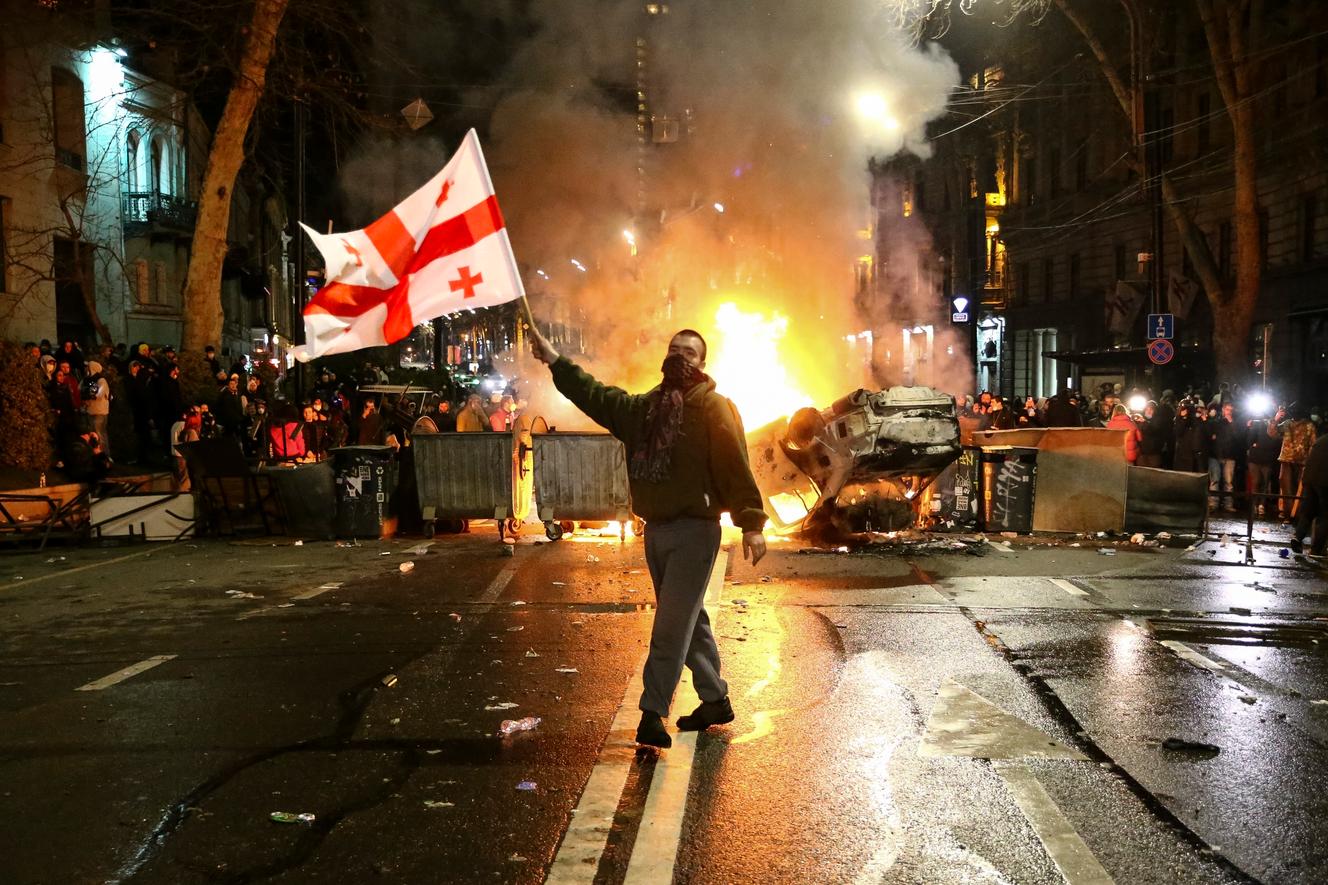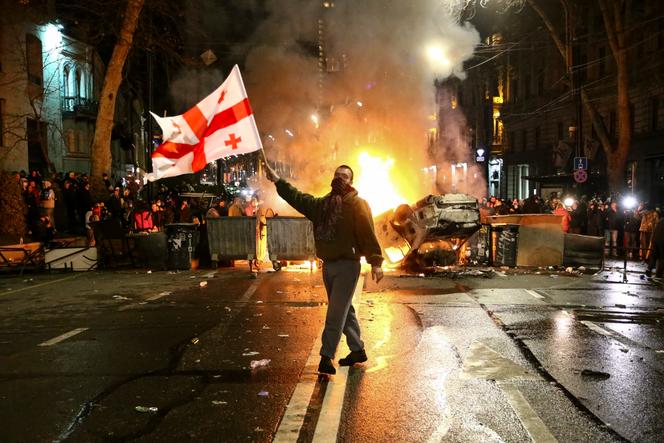 Moscow on Friday, March 10, accused foreign countries of fomenting mass protests in Georgia, likening them to an attempted coup designed to sow tension on Russia's borders.
Russian Foreign Minister Sergey Lavrov said that several days of demonstrations in the Georgian capital Tbilisi reminded him of a Ukrainian uprising that ousted a Kremlin-friendly government in 2014.
Hundreds of Georgians rallied for a fourth day outside Parliament, as lawmakers dropped controversial "foreign agent" legislation that had triggered violent clashes between police and protesters this week.
The demonstrations point to turmoil over the future of Georgia, which aims to join the European Union and NATO, much to the frustration of Moscow, which invaded in 2008 and recognized two separatist territories in the north of the country as independent.
"There is no doubt that the law on the registration of non-governmental organizations was used as an excuse to start, generally speaking, an attempt to change the government by force," said Lavrov. The protests looked similar to "Kyiv's Maidan" uprising, he said, and "are of course being orchestrated from abroad" with the aim of creating "an irritant on the borders of Russia."
Critics of the Georgian bill say it resembles Russian legislation used to silence dissenters. And this week, Georgian President Salome Zurabishvili sent messages of support to the protesters from New York, where she is on an official visit.
The Kremlin criticized those remarks and accused Washington of stoking "anti-Russian" sentiment in the Black Sea state. Kremlin spokesman Dmitry Peskov said, "We see where the president of Georgia is addressing her people from."
'We want Europe'
Georgian lawmakers voted down the bill in the second reading after just one MP out of 36 backed the bill, which critics have liked to Russian legislation used to pressure civil society.
Newsletter
THE WORLD IN FRENCH
Every morning, a selection of articles from The World In French straight to your inbox
Sign-up
Georgia's jailed ex-leader Mikheil Saakashvili praised the role that protesters had played in forcing the government to drop the bill.
"They were brilliantly resisting brutal force used against them," Saakashvili said in a Facebook post.
"No Russia with its brutal oligarch is in [a] position to defeat them," he said, referring to the billionaire founder of Georgia's ruling party, who has made his fortune in Russia.
Earlier Friday, the mood was festive outside Parliament, where throngs of Georgians blew whistles, waved their red and white flag and held signs reading: "We are Europe."
"We are happy that the law failed, that Georgian people prevailed and will continue to fight for their European future," said 20-year-old student Saba Meurmishvili. He said he had attended the rally with his classmates from several universities to "continue to put pressure" on the authorities.
Georgia applied for EU membership together with Ukraine and Moldova days after Russia invaded Ukraine in February 2022. EU leaders granted formal candidate status to Kyiv and Chisinau last June but said Tbilisi must implement reforms first.
The chairman of the ruling Georgian Dream party chairman, Irakli Kobakhidze. doubled down on the motivation behind the bill even after lawmakers rejected it.
"Being an agent is shameful no matter whose agent you are," he said, calling Georgian NGOs "agents of foreign influence."
'Pro-Western race'
His party buckled under pressure from protesters on Thursday, announcing it would drop the bill after police used tear gas and water cannon against Georgians who took to the streets. But opposition parties said their protests would continue anyway, saying there were no guarantees "that Georgia is firmly on a pro-Western course."
We are interested in your experience using the site.
The European Union, France and the United States welcomed the Georgian government's dropping of the bill. The European bloc called on the government to implement further reforms to gain candidate status.
Georgian authorities have faced mounting international criticism over a perceived backsliding on democracy, seriously damaging Tbilisi's ties with Brussels. But the ruling party says it is committed to Georgia's EU and NATO membership bid, enshrined in the constitution and supported − according to opinion polls − by 80% of the population.