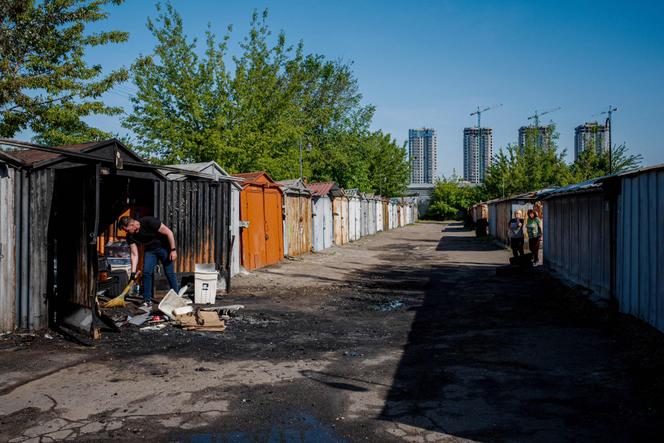 Kyiv is facing relentless nightly attacks from Russian missiles and drones. While tensions around the upcoming Ukrainian counter-offensive are growing, the Ukrainian capital – which has been relatively spared since the end of winter – has been the target of regular bombings. Since the beginning of May, it has been targeted by ten air attacks that the local civil and military administration has called "unprecedented in their power, intensity and variety." Other cities in the country, far from the front lines, have also been affected by this new campaign, which comes at a time when both countries are stepping up their attacks in order to destabilize and disorganize the enemy forces.
On Thursday, May 18, the Kremlin-installed authorities in occupied Crimea reported a train carrying grain being derailed following an explosion. Local railroads claimed that the incident was the result of "third-party actions," reigniting suspicions of Ukrainian sabotage behind Russian lines.
Authorities in Kyiv have, for their part, claimed to have destroyed a wave of explosive drones launched at the capital at dawn on Friday, May 19, while military administrations in other cities in the west and south reported explosions. The night before, 30 Russian missiles crossed the Ukrainian sky. In Kyiv, residents were awakened by the blasts around 5 am. In the minutes that followed – as with every attack – waves of messages of mutual support circulated on dozens of chat channels on the Telegram app that list air raid warnings, missile movements and explosions across the country. The following messages appeared on one of the capital's chats between 05:05 and 05:07 am: "This is so fucking scary." "It was so brutal it made me jump." "Everything will be fine." "My whole apartment is shaking." "Thank you air defense." "May God protect our defenders."
Damaged energy infrastructure
In the early hours of the morning, the Ukrainian army announced that it had intercepted 29 of the 30 Russian cruise missiles launched at various targets in the country, as well as two Iranian Shahed drones. The protection of Ukrainian cities has been strengthened over the last few months by new sophisticated Western air defense systems, including two American-made Patriot defense systems.
Read more
Article reserved for our subscribers

The Patriot system, a symbol of 'American power projection'
"All enemy targets in Kyiv's airspace were detected and destroyed," assured the local civil and military administration. In Odesa, military authorities announced that six Kalibr and two Iskander cruise missiles were intercepted by air defence, but that debris from the explosions killed one man and started a fire in an industrial warehouse.
You have 44.07% of this article left to read. The rest is for subscribers only.