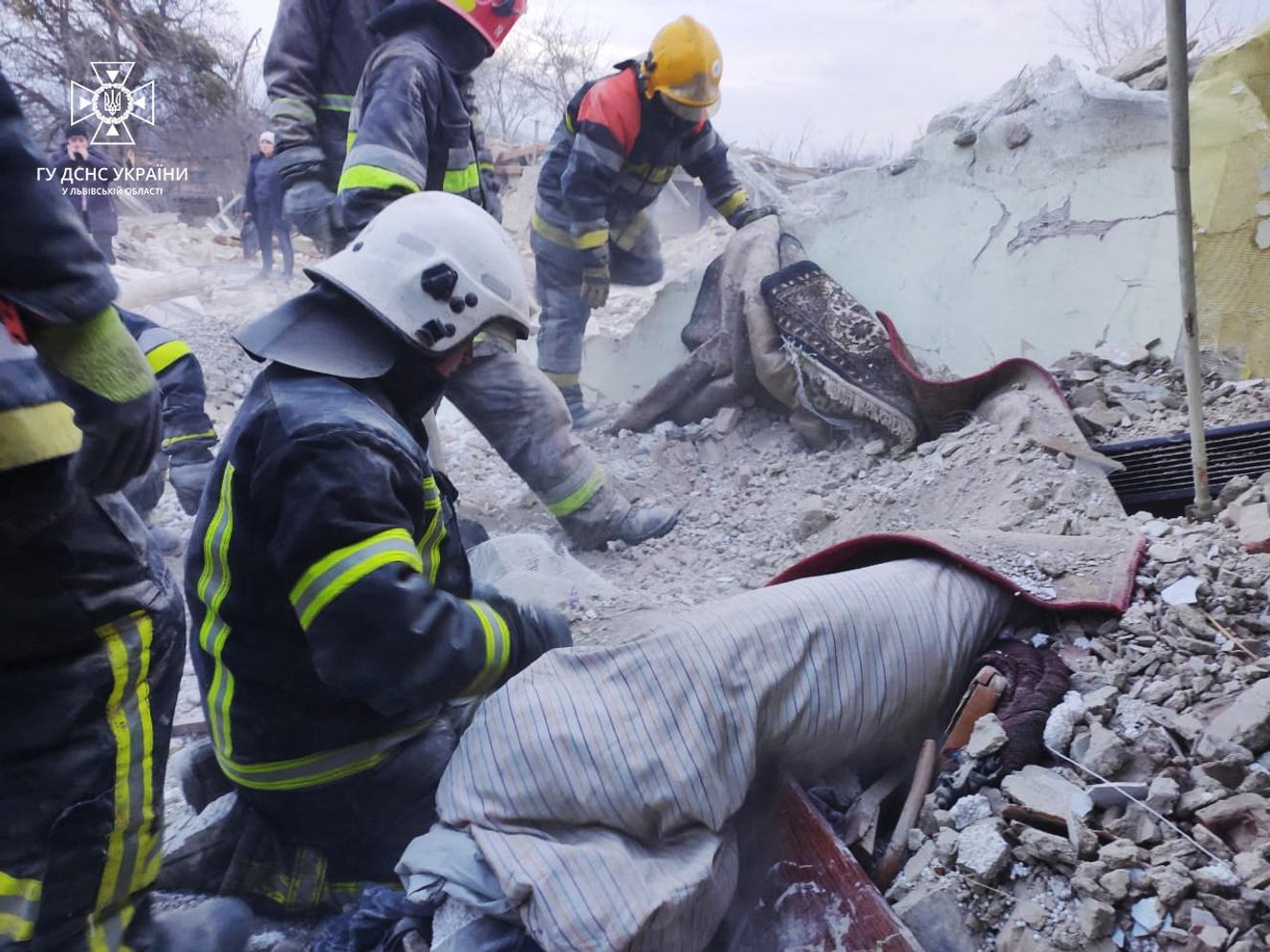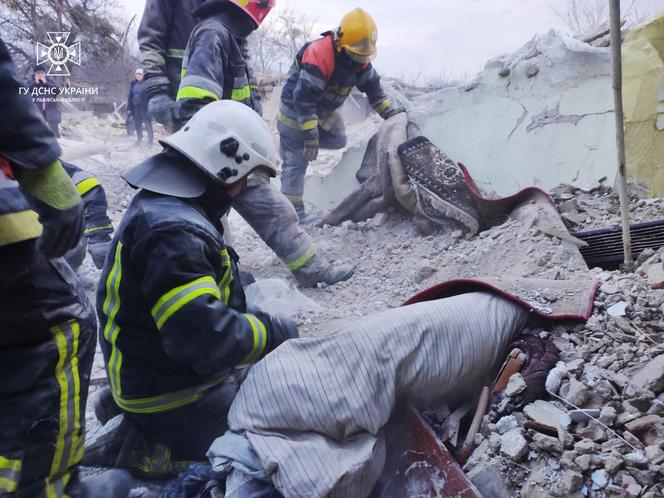 Ukrainian officials said on Thursday, March 9, that massive overnight strikes by Russia had killed at least five people in both western and eastern regions. The governor of Ukraine's western Lviv region said that four people were killed when a missile hit their house, while the governor of the eastern Dnipropetrovsk region said that a 34-year-old man had been killed.
"At this moment, it is known about four dead. These are four adults. Two men and two women," Lviv regional governor Maksym Kozytski wrote on Telegram messenger, saying a missile had hit their home in the Zolochiv district west of the city of Lviv. In the Dnipropetrovsk region, a "34-year-old man died as a result of the shelling. A 28-year-old woman and a 19-year-old boy were injured. They were hospitalized," regional governor Sergiy Lysak wrote on Telegram.
The pre-dawn Russian strikes targeted energy infrastructure across Ukraine, prompting massive power outages including at Europe's largest nuclear power plant. Air raid sirens wailed for hours across Ukraine, including the capital Kyiv, where residents were jolted out of bed by explosions. It was not immediately clear how many missiles had struck targets in Kyiv, or whether the sounds were missiles being intercepted by defense systems, which were activated in multiple regions of the country.
Kyiv mayor Vitali Klitschko said two people had been injured in an explosion in the west of the Ukrainian capital on Thursday. "Two people were injured" by an explosion in the Svyatoshynsky district, he wrote on social media, after earlier reporting "explosions" in a southern part of the city. Klitschko also said explosions were reported in the city's Holosiivskyi district and emergency services were heading there.
In eastern Ukraine, 15 missiles struck Kharkiv and the outlying northeastern region, hitting residential buildings, according to Kharkiv Governor Oleh Syniehubov. He promised to reveal more details about the scale of the damage or any casualties in Ukraine's second-largest city. "Objects of critical infrastructure is again in the crosshairs of the occupants," he said in a Telegram post.
Ukraine said on Thursday its air defense had shot down nearly three dozen missiles fired by Russia at targets across the country, in Moscow's latest barrage targeting critical infrastructure. "Last night, the enemy launched a massive missile attack on the critical infrastructure of Ukraine. It launched 81 missiles from different bases. Ukraine destroyed 34 cruise missiles," Ukraine's commander in chief Valery Zaluzhny said in a statement on social media.
Read more
Russia renews major missile attacks on Ukraine's energy infrastructure
Pummeling key facilities
Ukraine's second-largest city Kharkiv was left without power, water or heating. "There is no electricity in the whole city. We have switched to generators at critical infrastructure. Electric-powered transport is not working. There is no heating and water supply, due to the lack of voltage in the electricity network," Kharkiv mayor Igor Terekhov said on local television. Kyiv mayor Vitali Klitschko said 15% of households were without power and 40% without heating following explosions in two areas of the Ukrainian capital.
Ukraine's nuclear energy operator said the strikes had also cut off the electricity supply to the Zaporizhzhia nuclear power plant, which is controlled by Russian forces and is Europe's largest.
Newsletter
THE WORLD IN FRENCH
Every morning, a selection of articles from The World In French straight to your inbox
Sign-up
For the sixth time since it was taken over, the facility is now operating on diesel generators which have an autonomy of 10 days. "The countdown has begun. If it is impossible to renew the external power supply of the station during this time, an accident with radiation consequences for the whole world may occur," Energoatom said.
There were also strikes reported on energy plants in several other parts of Ukraine, including Kharkiv in the northeast and the region of Odesa in the southwest. In the Kharkiv region, located on the border with Russia, governor Oleg Synegubov said there had been 15 strikes. "The occupiers once again targeted critical infrastructure facilities," he said on social media. Synegubov added that information on victims and the scale of the damage was being "clarified".
Read more
Russia strikes Ukrainian cities, targeting energy infrastructure
In the region's main city of Kharkiv, mayor Igor Terekhov said "energy infrastructure" had been targeted and there were "problems" with electricity in some parts of the city. In the Odesa region, governor Maksym Marchenko said "missiles hit the energy infrastructure of the region as well as damaged residential buildings" following a "massive missile strike". "Fortunately, there were no casualties," he said, adding that "power supply restrictions" were in place.
Bakhmut may fall
The wave of strikes comes after Russia reported making gains in the battle for the industrial city of Bakhmut, which has been the focus of months of fierce combat. Russia's Wagner mercenary group, which has spearheaded the attack on Bakhmut, claimed on Wednesday to have captured the eastern part of the city.
"What we see is that Russia is throwing more troops, more forces and what Russia lacks in quality they try to make up in quantity," NATO Secretary General Jens Stoltenberg told reporters in Stockholm on the sidelines of an EU defense ministers' meeting on Wednesday . "We cannot rule out that Bakhmut may eventually fall in the coming days," the head of the US-led military alliance said, adding that "this does not necessarily reflect any turning point of the war".
Ukrainian officials have warned that the fall of Bakhmut could lead to further Russian advances in eastern Ukraine. Ukraine's Deputy Defense Minister Ganna Maliar said on Wednesday that the resistance in Bakhmut should be considered a "victory".
We are interested in your experience using the site.
"This is victory – the fact that our soldiers have been destroying the most powerful and professional 'Wagner' units there for several months in a row. The enemy has superior forces in terms of manpower and weapons, but in these conditions, our fighters bravely confront the enemy almost on an equal basis," she said.
Read more
Article reserved for our subscribers

Kyiv launches international center to probe war