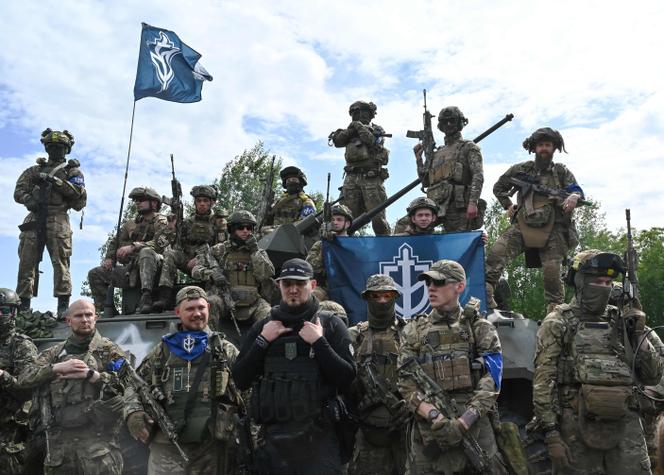 After taking part in an unprecedented military operation launched from Ukrainian territory and crossing into the Russian border region of Belgorod, the armed groups responsible – made up of Russians – are triumphant. "The Russian military command was not ready," said Denis Nikitin (Kaputin is his real name), alias "White Rex," the leader of the Russian Volunteer Corps (RDK), one of the two groups of fighters allied to Kyiv that took part in the operation, on Monday, May 22. "When we arrived, everything fell apart. They did nothing," boasted the man dressed entirely in black.
On Wednesday, two days after the start of the incursion, which he claims to have been a "success," the leader and his men held a press conference in front of dozens of journalists in a secret area in northern Ukraine, not far from the Russian border. Behind him, on an armored vehicle presented as a trophy taken from the Kremlin forces, soldiers posed with flags of their military unit.
Read more
Article reserved for our subscribers

War in Ukraine: Incursion into Belgorod region antagonizes Moscow
"Any crossing of the border with Russia can be considered a success," bragged White Rex, a known figure in the hooligan and neo-Nazi movements of Russia and Germany. He tried to euphemize the political leanings of his group, the RDK: "We are a conservative and traditionalist right-wing military organization," he argued. In his eyes, the most important thing is that the operation proved to Russia "that you can fight against tyrants and that Putin's power is not unlimited." From a military point of view, he said it also contributed to the effort to disorganize the Russian army by forcing it to "disperse" soldiers along the front line.
'Back soon'
A few meters away from him, "Caesar," the spokesman of the Freedom Legion of Russia and his few, much fewer men, was also pleased with the feeling of "panic" that he believed to have created within Russia. That, according to him, was proof "the Russian state, and all its institutions, are tinpot". Originally from Saint Petersburg, he asserted that the operation was only a first step. "We will be back soon," he affirmed.
Since the beginning of the invasion of Ukraine in February 2022, other incursions from Ukrainian territory into Russia have already taken place. Ukrainian military intelligence, for example, is conducting clandestine operations with its special forces units. While they remain relatively discreet, other actions, like those by the Russian partisans, seem designed to be publicized. In March, RDK men had already claimed responsibility for the takeover of several buildings in the Bryansk region, on the northern border of Ukraine, for a few hours.
You have 52.05% of this article left to read. The rest is for subscribers only.