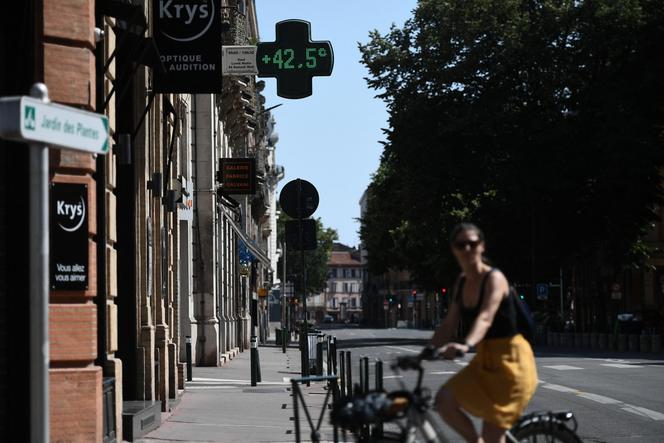 During the summer of 2022, with temperatures reaching 41°C in August, Toulouse suffered the full force of a summer heat wave episode likely to reoccur. There were numerous direct consequences: the level of the Garonne River was at its lowest point, squares and shopping streets were deserted, and the elderly had difficulties in moving around. In the space of three months between early June and late August 2022, 24 days exceeded the 35°C mark – a record for a city in France that summer.
Mayor Jean-Luc Moudenc (ex-Les Republicans, right-wing) told The world that the municipality wants to "provide solutions through new provisions" via its plan "Toulouse + Fresh," which he presented in May. For summer 2023, the city has appointed a project manager overseeing all services, and has set out both "permanent" and other "more experimental" measures.
"Our objectives are protecting the most vulnerable people in nursing homes and nurseries, transforming the city little by little, particularly with vegetation, and then proposing new regulations within the local urban plan's framework," said Moudenc.
Read more
Article reserved for our subscribers

Climate change: How can Paris adapt to 50°C heat waves?
If the prefecture triggers the "orange heat wave" alert, about 30 measures are in hand to keep Toulouse, its inhabitants and its tourists cool. Opening hours for swimming pools, parks, museums, media libraries and recreational bases will be extended, sometimes late into the night. Blinds and water points will be installed in about 20 schools (just under 10% of municipal schools) this summer. Half of the city's leisure centers will also be equipped with "heat wave kits" comprising two thermometers, two mobile air conditioners and a case of water games. In some retirement homes, vegetation planting work is underway and installation of shade canopies is planned.
'About 20 heat islands'
In 2017, in partnership with the national weather service Météo France, Toulouse's urban planning and development agency identified "about 20 heat islands" in the metropolis. "Temperature differences of more than five degrees" were noted, "between the banks of the Garonne and the Capitol."
Read more
Article reserved for our subscribers

Faced with an early heat wave and a major drought, Spain questions its water management
The municipality is also planning to install giant shades, something that already happens in the Spanish city of Seville. In Rue Alsace-Lorraine, the long commercial street of the city center, thousands of ribbons arranged overhead should allow shading and lower the temperature. It's a device being welcomed by shopkeepers of the district, who are hoping that it will bring back the tourists who fled the main road during the hottest hours.
You have 37.28% of this article left to read. The rest is for subscribers only.