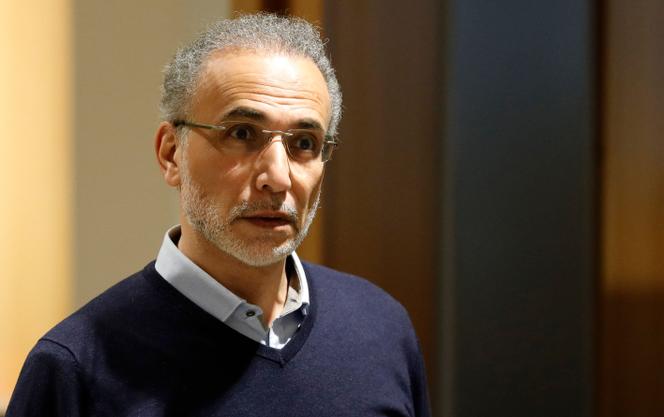 The first public confrontation between Tariq Ramadan and one of his accusers opened on Monday, May 15, before the Geneva criminal court. According to the indictment, the Islamic scholar was guilty of rape "three times" and "sexual coercion" (fellatio) during the same night of October 28 to 29, 2008, in a hotel in Geneva. He faces two to ten years in prison. His trial was ordered by the Swiss prosecutor's office, following a complaint filed in April 2018.
The plaintiff, RAD, nicknamed "Brigitte" in the press, is a Swiss convert to Islam, who had met Tariq Ramadan 10 years earlier, during a book signing, then a conference. She was 40 years old at the time. This mother of a family had been corresponding with him for a few months via MSN and Facebook before joining him in October 2008 at the hotel where he was staying. He apparently seized on a pretext to lead her into his room and forced her to undergo very violent sexual acts, accompanied by slapping and insults.
The Swiss investigation opened in the fall of 2018 while Tariq Ramadan was in pre-trial detention in France in connection with two other rape cases. He was incarcerated for nine months from February 2 to November 15, 2018. His first hearing by Swiss prosecutor Adrian Holloway was delayed both by his confinement and the slow cooperation between the two countries. It did not take place until two years later, in July 2020, at the courthouse in Paris, since the judicial supervision imposed on the Islamic scholar after his release prohibited him from leaving the country.
In September, then in October 2020, Tariq Ramadan was confronted with the plaintiff, still in Paris. It was two long days during which RAD maintained her accusations and Tariq Ramadan denounced "lies" and "fabrications." He only admitted to "consensual caresses" and produced for his defense messages from his accuser before and after their meeting at the hotel. According to one of his Swiss lawyers, Yaël Hayat, this confrontation also revealed the "close links" maintained by the plaintiff with other women implicating her client. These are contacts that, according to her, translated into a concerted will to "put this man down."
Climate of 'threats and fear'
Among the charges that will be debated in the criminal court are the certificates and notes from two psychiatrists who treated RAD, one of whom was consulted in the emergency room the day after that night in October 2008. "Tariq Ramadan met her twice, met her one evening and destroyed her during the night," said the lawyer François Zimeray, emphasizing the climate "of threats and fear" in which his client lives. The Swiss prosecutor's office has also obtained the payment of part of the French legal proceedings, including minutes of hearings from the first two French plaintiffs, including Henda Ayari, describing similar sexual violence by Tariq Ramadan. According to the prosecution, this evidence supports RAD's story.
You have 36.15% of this article left to read. The rest is for subscribers only.