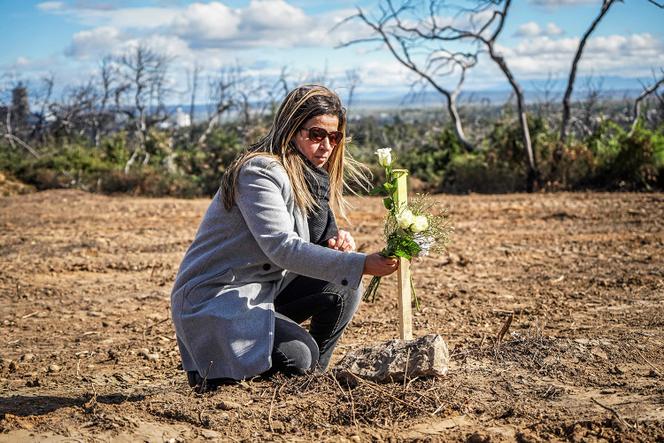 Nadia Ghouafria could not hold back her tears as she approached the field and saw the stuffed animals and flowers littering the ground. On this plot surrounded by vineyards, a research operation conducted by INRAP (National Institute of Preventive Archaeological Research) revealed on March 20, 2023, the existence of a cemetery of 27 graves of Harki babies and young children in the Gard region, in southern France . Abandoned in the middle of a military field, this cemetery had been uncovered thanks to Ghouafria's tenacity.
The daughter of a Harki soldier (Algerian Muslims recruited by the French army during the Algerian war, 1954-1962), Ghouafria, a 52-year-old school receptionist from Nîmes, had been working for 10 years to trace her family history and, more broadly, those of the families of these veterans. She knew that her parents, who arrived in Marseille on November 28, 1962, spent 220 days in the transit camp of Saint-Maurice-l'Ardoise, where at least 6,000 Harkis lived (from 1962 to 1965). In this part of the Gard region bordering the Rhône, hundreds of families were cramped into tents in deplorable living conditions. The Gard woman found photos of grounds surrounded by barbed wire, children suffering from malnutrition and inadequately clothed to survive in the countryside in winter.
With the organization ARACAN (Association of repatriated veterans of North Africa), she conducted research in the Gard's departmental archives from 2015 to 2016 but was unable to unearth any convincing evidence. Yet she persevered and, in 2017, she discovered the existence of a register dedicated to the camp of Ardoise, where her family had lived. "Access to this document was forbidden, so I made a request without really believing I would hear anything back." Two years later, the Nîmes woman received a positive response.
Read more
Macron and Algeria: Five years of a troubled relationship
'The cemetery of shame'
Fatima, Moura, Said, Jeannette, and the list kept going on and on. On August 21, 2019, Ghouafria held "the register of the military camp of Ardoise's provisional burial site 1962-1964" in her hands, which listed 71 names, including 61 first names of children who died aged between one month and two years or were stillborn. Each name had a corresponding number. "It was that of their grave," explained Ghouafria. She also found a report whose conclusion surprised her: "It said that the register should not be made public or brought to the knowledge of former Harkis," said the woman, still shaken: "That's when I understood it was a cemetery of shame. It became my struggle."
You have 51.54% of this article left to read. The rest is for subscribers only.