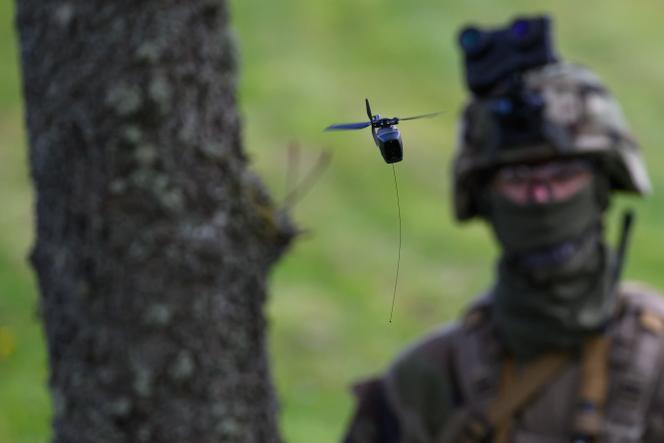 Robotic combat is a more complex discipline than it seems. This was the key takeaway from the second day of a robotics event held on May 10 by the French Army in Beynes, west of Paris. The event marked the opening of an unusual military competition named "Cohoma," an abbreviation for "human-machine collaboration." The idea is to bring together, until June 7, teams of military personnel, engineers and defense companies to test air and ground drone prototypes based on real-life scenarios.
The atmosphere was a mix between the aseptic environment of weaponry fairs, where these systems are frequently showcased, and the raw footage from the Ukrainian front lines, which could occasionally suggest these new technologies are easy to use. Contrary to these impressions, the demonstration at Beynes, carried out by a specialized infantry unit, revealed the true complexity of operating these devices in a coordinated manner. The simulated operations were performed in front of a select audience and offered a comprehensive overview of all the projects currently under examination within the Army.
On that day, a multifaceted operation was staged in the expansive grassy expanse of the Beynes camp, employing reconnaissance drones, bomber drones, teleoperated munitions (known as "kamikaze" drones), and ground robots. However, the exercise showed that operating these devices requires at least one soldier per machine – nearly half of the 14 deployed soldiers that day. Windy conditions prevented the kamikaze drone from hitting its target. Despite this, a crawler-mounted ground robot successfully evacuated a mock casualty while a bomber drone threw a smoke screen to odd the enemy's visibility.
To demonstrate that his troops were not at risk of falling behind, the chief of staff of the Army, General Pierre Schill, visited Beynes. "There are opportunities you cannot afford to miss," he said. "This will bring about profound changes but I'm unsure if it will fundamentally challenge combat." The statement reflects the cautious French position on military robotization. It is both open to the tactical potential of this type of equipment but wary of the operational and ethical challenges it poses.
Read more
Article reserved for our subscribers

Kamikaze drones to make French army debut
A program in its own right
For instance, the target detection technologies of many drones can still make assessment errors, sometimes simply because of a shadow. In response to these risks, the ethics committee of the defense ministry established a doctrine in 2021: Only "lethal weapon systems incorporating autonomy" will be developed in France. This means robots that can kill if necessary but will always be, in one way or another, connected to human control. A narrow ridge in war conditions.
You have 63.68% of this article left to read. The rest is for subscribers only.