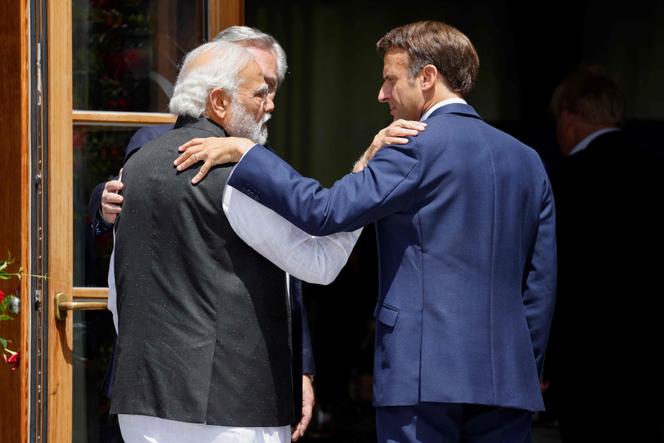 EEmmanuel Macron has decided to roll out the red carpet for the Indian Prime Minister. Narendra Modi will be the guest of honor at the July 14 military parade to mark Bastille Day, France's national holiday. It celebrates the storming of the Bastille fortress, the victory of the people and their emancipation, freedom, equality and fraternity. In other words, all values ​​that have been weakened in India since the Hindu nationalist took power in 2014. This contradiction is a reality that France has chosen to ignore.
Read more
India's democratic regression
The President's decision to invite Modi takes on a particular significance, coming at a time when the Indian government has just taken a further step in its authoritarian evolution. Main opposition representative Rahul Gandhi has been excluded from contesting the 2024 general election. He was removed as an MP and declared ineligible for six years, after being sentenced to two years in prison for ironic remarks deemed defamatory, made during the 2019 election campaign against his opponent Modi.
The heir to the prestigious Nehru-Gandhi dynasty, which gave India three prime ministers, had become an embarrassment to the government. He had been loudly demanding an explanation from the Indian prime minister about his relationship with billionaire Gautam Adani, after the release of an explosive report on January 24 by Hindenburg Research, accusing the businessman of a massive fraud.
Read more
Article reserved for our subscribers

Indian Prime Minister Narendra Modi neutralizes his main opponents
"Modi's domestic image as incorruptible is being seriously threatened, really for the first time," said Achin Vanaik. Writing in the American magazine Jacobin, this former Delhi University political science professor believes that the Modi government and Hindu nationalist political forces working for a Hindu nation "are out to establish a de facto ethnocracy." He writes that this "does not require the complete elimination of liberal democracy and associated rights, which could be counterproductive – after all, the majority-Hindu population must be persuaded to welcome this project – but it does require the dramatic hollowing out of the structures of democracy."
'Electoral poaching'
The independence of the press and the judiciary – two pillars of democracy – have been seriously undermined since 2014, and freedom of expression has also been drastically reduced. Testifying, contradicting, protesting, investigating and tweeting can lead directly to jail in India. The government is using draconian colonial-era laws to arrest intellectuals, journalists and activists.
Until now, Western governments have justified their unconditional support for Modi by claiming that India remains a great democracy with free elections. The conviction of Rahul Gandhi undermines this claim. It adds to another deeply undemocratic practice that has become widespread under Modi: buying off parliamentarians in regional assemblies. When the Prime Minister's party is defeated at the polls, it buys off opposition MPs in order to return to power, thereby depriving the opposition of its electoral victories. Politicians call this "electoral poaching."
You have 54.89% of this article left to read. The rest is for subscribers only.