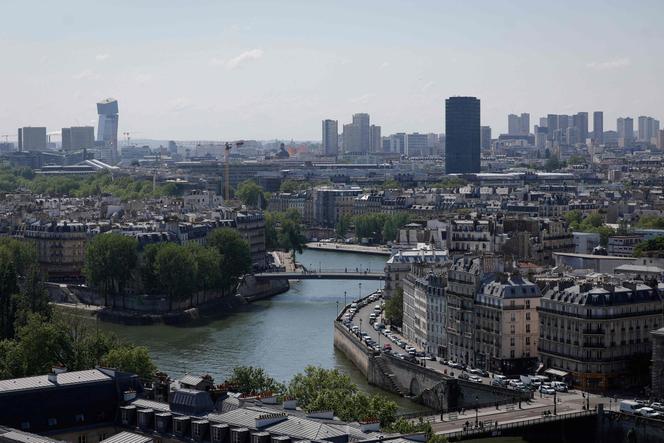 "Today's weather in Paris will be sunny, though with a few plastic showers up to 40 kilos in cumulative rain over the day." A new kind of weather report, with a plastic bag in the shape of a more or less threatening cloud depending on the forecast, was launched in Paris on Thursday, May 25, by former France Télévisions star presenter Chloé Nabédian, together with Environment Minister Christophe Bechu. Developed by researchers at the Minderoo Foundation, an Australian philanthropic organization, The Plastic Forecast is a new weather indicator designed to warn of the "plastic pollution crisis."
Its global launch in Paris is not due to the French capital's particular plastic microclimate but to the fact that from May 29 to June 3, Paris is hosting the second round of negotiations to draw up an international putting an end to plastic pollution.
The awareness-raising operation will include displays in the metro, on bus shelters and on digital billboards for the duration of the negotiations. "Plastic weather forecasts," like those issued by the French weather service Météo-France, will be available for consultation on the Plasticforecast.com website, even after the UN summit. "The Plastic Forecast proves that it is almost impossible to avoid this threat," said Marcus Gover, plastics research coordinator at the Minderoo Foundation. In association with Boston College, the foundation published a benchmark report this year, assessing the cost of environmental and health impacts of plastic pollution. Globally, this is estimated at over 350 million tons per year.
Read more
Article reserved for our subscribers

G7 countries promise to end plastic pollution by 2040
Microparticles and nanoparticles
Even when the forecast is good, the bulletin announces plastic "rain" of around 40 kilos over the course of a day. On a rainy day, up to 420 kilograms of plastic come down on the heads of Parisians. A gimmick? Not at all, according to the Minderoo Foundation. The researchers explained that to establish their model, they related on scientific publications. Scientific literature has highlighted the fact that plastic is present in the atmosphere in the form of microparticles (smaller than 5 millimeters) and nanoparticles (smaller than 1 microgram), contaminating the most remote places on the planet, from deserts to ice floes to the summit of Mount Everest.
These microplastics are produced by the disintegration of waste but are also constantly emitted into the atmosphere by all materials incorporating plastic: paints, coatings used in the construction industry or tire wear, just to name a few.
You have 37.4% of this article left to read. The rest is for subscribers only.