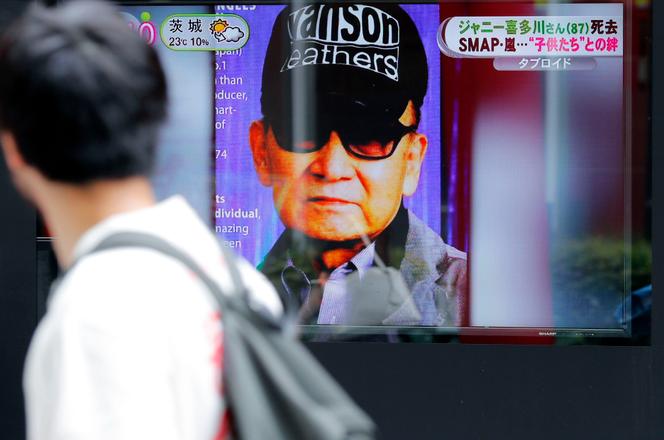 "A desperate act to ensure its survival." It's an understatement to say that Ryu Takahashi, former J-pop star of powerful Japanese talent agency Johnny & Associates, Johnny's for short, was unhappy with the apology given on Sunday, May 14, by Julie Keiko Fujishima. The president of the agency was speaking about the accusations of sexual abuse of teenagers recruited by the agency. These allegations focus on its founder, Johnny Kitagawa (1931-2019), who was also her uncle.
"I would like to offer my sincerest apologies to those who claim to be victims," ​​she said. The agency takes the matter seriously, she added, saying such behavior is "unacceptable." Fujishima pledged to implement measures to address the needs of the victims but did not comment on the claims and rejected the suggestion of an investigation.
"There are persistent rumors. It doesn't make sense for someone who was the head of the agency and succeeded Kitagawa as president to say she didn't know about it. I think the agency just wants to bury the matter," Takahashi, 31, told the center-left daily newspaper asahi. He said he was molested by Kitagawa when he was 16.
Constant flow of groups
The scandal threatens a true institution of J-pop, omnipresent in Japanese entertainment since the 1960s. Born in 1931 in the United States, Johnny Kitagawa, whose real name is John Hiromu Kitagawa, became successful in 1967 with his second boy band, the Four Leaves. He then developed the concept of boy bands made up of young people recruited as teenagers and trained in his academy. He had a steady stream of successes with groups like SMAP, Arashi and Tokio. Johnny & Associates became nicknamed "the Charming Mens Factory."
His success was never threatened by recurring rumors about his behavior toward his young recruits. In 1988, the problem was reported by a former Four Leaves member when his diaries were published. In 1996, Junya Hiramoto, a former Johnny's member, revealed that he had seen the manager rape a boy in a dormitory belonging to the agency.
The case took a more serious turn in 1999, when the weekly newspaper Shukan Bunshun published statements by 12 teenagers who spoke of sexual abuse, including rape, by Kitagawa.
At the time, the agency denied the claims and sued for defamation. Its lawyer said it was the victim of rumors spread by former trainees who were not talented enough to succeed. The trial ended in 2004 in the Tokyo High Court, which recognized "elements of truth" in the articles published in Shukan Bunshun.
You have 35.46% of this article left to read. The rest is for subscribers only.