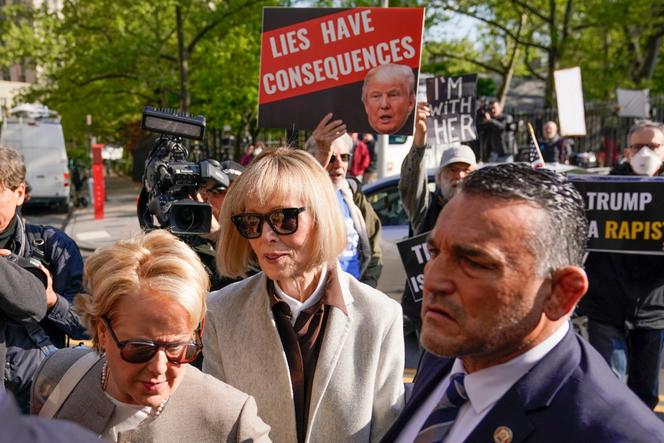 It took less than three hours for jurors to reach a historic unanimity on Tuesday, May 9, in New York. A former United States president, Donald Trump, was found liable for sexual assault and defamation and ordered to pay his victim $5 million.
The trial, which lasted over two weeks, followed a complaint filed by former columnist and magazine writer E. Jean Carroll, who had accused Trump of raping her more than 25 years ago in the dressing room of a Manhattan store.
The nine jurors had to settle on 10 questions. The only one they answered negatively was about rape. Trump did not commit rape, which implies penetration, they determined. But in all other aspects, the victim was supported in her story.
Yes, she was sexually assaulted. Yes, Trump forcibly touched her and injured her, disregarding her rights in all conscience. Yes, Trump defamed Carroll in 2019, damaging his reputation and honor, knowing he was misrepresenting the facts.
The Republican primary frontrunner has said on multiple occasions he did not know Carroll. "And, while I am not supposed to say it, I will. This woman is not my type!" he wrote in October last year on his Truth Social platform.
"Today, the world finally knows the truth," Carroll said in a statement on Tuesday. "This victory is not just for me but for every woman who has suffered because she was not believed."
Trump was quick to react to the verdict. "I have absolutely no idea who this woman is. This verdict is a disgrace – a continuation of the greatest with hunt of all times," he wrote in capital letters on Truth Social.
Read more
Article reserved for our subscribers

Author accuses Donald Trump of rape before a New York court
'It's a lie'
Trump's lawyers said they would appeal the decision. They believe that the jurors are biased in a city that has been won over by the Democrats. "In New York, you can't get a fair trial," one of them, Joseph Tacopina, said.
"People have very strong feelings about Donald Trump, that's obvious," Tacopina had said earlier this week during a final plea. "There's a time and a secret place to do that: it's called a ballot box during an election." But despite his efforts to identify contradictions in the victim's story or instill doubt about his motives, Tacopina failed to convince jurors.
Aged 79, Carroll obtained a spectacular victory in a civil court, which does not recognize the statute of limitations of the facts, contrary to criminal law. She had spoken to two friends following the assault, which she dated to late 1995 or early 1996, before remaining silent for more than 20 years.
Carroll had bumped into the real estate mogul outside the Bergdorf Goodman luxury store on Fifth Avenue, not far from Trump Tower. The conversation was at first banter between the entrepreneur and the columnist, who ran the mail section in Elle magazine.
You have 42.56% of this article left to read. The rest is for subscribers only.