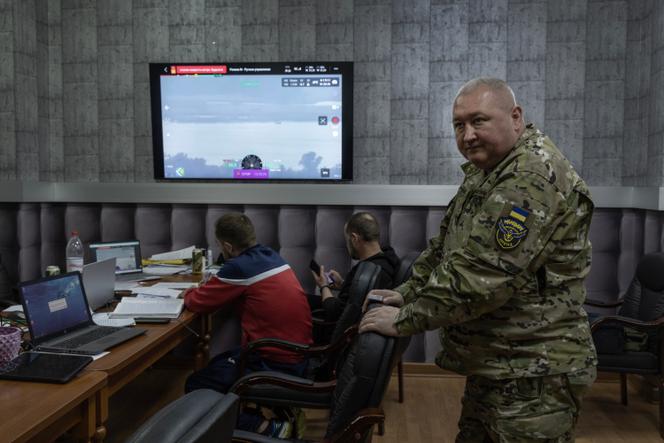 The position, in an abandoned house, is unsafe, since it has been used in the past. Still, the unit led by "Shkiper," a War name, decided to settle there. The view of the Dnipro River and the islands is breathtaking. On the other side of the river, glittering under a bright spring sun, the positions of the Russian army, about 800 meters away, are invisible.
That morning, the unit's mission was to ensure that targets hit the day before had been destroyed and to approve new ones indicated by clandestinely acting partisans in the Russian occupation zone.
Skipper (named after Skipper, the leader of the penguins in Madagascar) and his companions "Escobar", "Vidma" ("Witch") and "Vulkan" ("Volcano") plugged in a battery, deployed a Starlink satellite antenna and ensured the drone is ready to fly. After 10 minutes, the link to the satellite was established. Escobar, the drone's operator, hoisted the craft to an altitude of 430 meters, "high enough to try to beat the Russian electronic jamming," he said, before launching it over the river.
The house is officially on the front line, with the Dnipro River being what Ukrainians call "the gray zone" – a no man's land – between the two armies. In reality, since the recapture of Kherson on November 11, 2022, special forces units, affiliated with military intelligence, have gained a foothold on at least two islands on the Dnipro and the left (southern) bank of the river, dubbed "Datchy" by the residents of Kherson who have dachas there. This discreet progress has enabled Ukrainian commandos to prepare for the upcoming stages of the war.
Read more
Article reserved for our subscribers

Ukraine arranges troops in battle order for counteroffensive
perilous crossing
Captain A., an officer in a military intelligence battalion, has set up his company's headquarters in an unmarked house in Kherson, away from the military bases, hoping to escape the daily Russian bombings. He pointed to the map of the region. "We took a foothold on the first island as soon as November [2022] and on the left bank of the river in January," he said. Although still present in some dachas and along the road from the destroyed Antonivsky bridge to the city of Oleshky, the Russian army has withdrawn its main defense lines beyond the Konka River.
"We are attacking Russian positions and advancing along the bank," said A. About 10 kilometers of the left bank of the Dnipro was quietly reclaimed this winter on the strategic front of Kherson, while all eyes were turned to the battles in the Donbas. The purpose of the maneuver is primarily to collect intelligence to identify enemy positions, which are then targeted by artillery, and to prepare for the river crossing when the order of the counteroffensive comes.
You have 61.3% of this article left to read. The rest is for subscribers only.