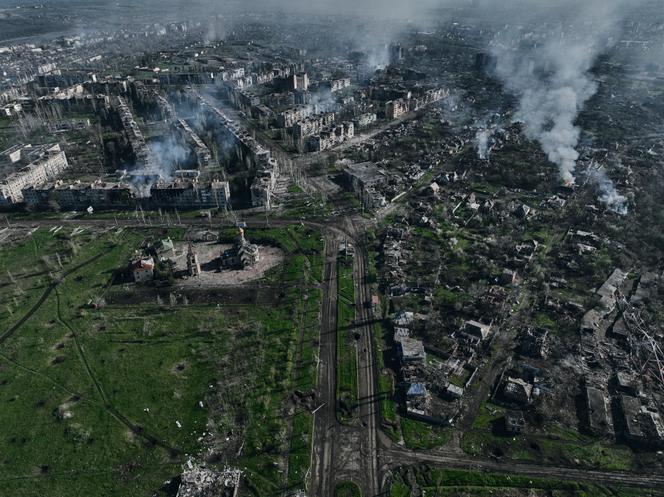 Ukraine said it continued to fight for Bakhmut on Monday, May 22, and still controlled a corner of the eastern city, as Russia's paramilitary Wagner company said it would transfer control of the ruined hotspot to the Russian army by June 1. Both Wagner and the regular Russian army said over the weekend that Bakhmut has fallen to them, but Ukraine has denied this.
"The fighting continues," Ukraine's Deputy Defense Minister Ganna Malyar said, a day after President Volodymyr Zelensky said Bakhmut was "not occupied" by Russia. Malyar said Kyiv's troops retained control of the "Airplane" district of Bakhmut. "The battle for the dominant heights on the flanks – north and south of the suburbs – continues," she added.
The head of Russia's mercenary group Wagner, whose fighters have spearheaded Moscow's storming of Bakhmut, announced on Saturday that the city had fully fallen to his fighters. On Monday, he said the mercenaries would leave Bakhmut by June 1 and hand over control to regular Russian troops. "Wagner will leave Artemovsk from May 25 to June 1," Yevgeny Prigozhin said in an audio recording on Telegram, using the city's former Soviet-era name.
Read more
Article reserved for our subscribers

Wagner and Putin claim the capture of Bakhmut, a city reduced to rubble
Prigozhin said the mercenaries had set up "defense lines" on the western outskirts of the city before a planned transfer of control to the Russian army. "If the ministry of defense does not have enough personnel, we have thousands of generals," said Prigozhin, who has been embroiled in an increasingly public spat with the Russian military leadership.
Prigozhin has poured scathing criticism on Russian Defense Minister Sergei Shoigu and army chief of staff Valery Gerasimov, accusing them of being incompetent and causing Moscow's large-scale losses in the conflict in Ukraine.
Bakhmut, a salt-mining city in the Donetsk region, had a pre-war population of around 70,000 people. Both sides are believed to have suffered huge losses in the battle for Bakhmut, the longest and bloodiest in Moscow's offensive.
Read more
Article reserved for our subscribers

Zelensky, the G7's surprise guest, upsets summit agenda